The production crew of "Reply" Series will produce the drama, "Smart Prison Living" on tvN.
Anyone missing the humorous script and vivid characters of "Reply" drama series? If so, here's a drama which the same drama production crew take part in. 
Moreover, this drama is so unique in the way it portrays the ordinary prison life in Korean Drama. The prison is not a common or popular one for Korean drama so far. But again, Producer Shin WonHo issues challenge to the new world nobody went to. 
Moreover, in this drama, idols' starring is outstanding. You can't wait? Let's check out A to Z of "Smart Prison Living" here!
"Smart Prison Living (2017 Drama)"
Information
Title: Smart Prison Living / Wise Prison Life / Prison Playbook/ 슬기로운 감빵생활
Genre: Drama, comedy, black comedy
Director:  Shin WonHo
Screenwriter: Lee WooJung, Jung BoHoon
Network: tvN
Runtime: 2017 November 22 ~
Air time: Wed & Thu 21:30
# of Episodes:  16
Language: Korean
Summary
The episode drama which depicts people living in the prison, the mysterious place. The super famous baseball player, Kim JeHyuk happens to go to the jail one day.
Cast
Park HaeSoo as Kim JeHyuk
Kim JeHyuk's wonderful life turns into opposite and he has to live from the bottom. He was a famous baseball player but becomes a desperate prisoner with the prison uniform.
Jung KyungHo as Lee JunHo
Lee JunHo is an elite prison officer. To JunHo, Kim JeHyuk is someone speical. For some reasons, Lee JunHo knows everything about him and gets mad whenever Kim JeHyuk things pop out.
Krystal as JiHo
JiHo is a Korean Medical student, who always gets enthusiastic about everything. She is always happy and passionate but sometimes, loses her temper.
Kang SeungYoon as Jean Valjean
Jean Valjean is in and out of the prison like his home because he steals anything whenever and wherever. 
Sung DongIl as Chief Jo
Im HwaYoung as Kim JeHee
Choi SungWon as Spot
Jung HaeIn as Captain Yoo
Must Read : "Nothing to Lose (2017 Drama)" Cast & Summary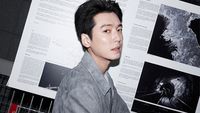 Became a fan of Jung KyungHo
You can now view more their stories