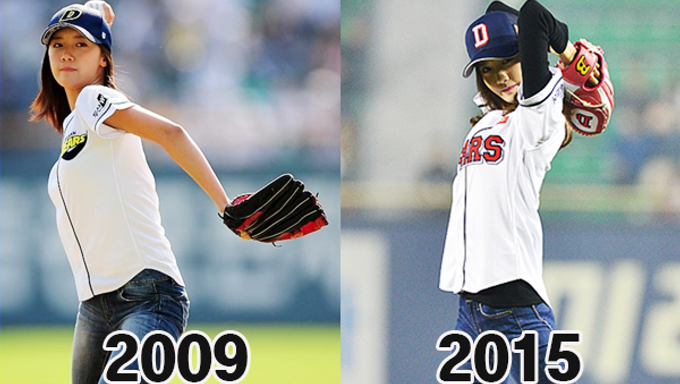 She's one of the few celebrities not to embarrass spectators when throwing the first pitch at a baseball game.
Must Read : Yoona Reveals Reason to Break Up with Lee Seung Gi
Yoona proved she's more than just an idol star on Wednesday as she threw the ceremonial first pitch at the Doosan versus NC playoff game in Korea, Seoul. The 26-year-old idol-actress, dressed in a Doosan jersey, with fairly decent accuracy making a nice showing for herself. The female idol dressed warmly for the chilly night, wearing a black long-sleeved T-shirt underneath her jersey with blue skinny jeans and dress shoes, finishing it off with a baseball cap atop her head. 
This is the second time Yoona throws the first pitch in Seoul borough. She has already caught the attention of fans previously with her ceremonial first pitch at a baseball game. Scroll down for her first pitch and compare the far-off day and now how she changed later.