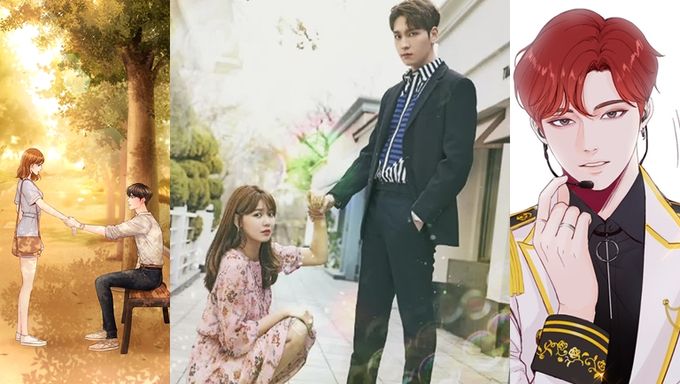 "So I Married The Anti-Fan" is a 2021 web drama filmed back in 2018. It is one of the numerous dramas based on webtoon this year.
Girls' Generation's (Choi) SooYoung ("Tell Me What You Saw", "Run On") and Choi TaeJoon ("Suspicious Partner", "The Undateables") are the lead actors. 2PM's ChanSung ("What's Wrong With Secretary Kim", "My Holo Love"), Han JiAn ("Mrs. Cop 2"), and Kim MinKyu ("Perfume", "Selection: The War Between Women") are also part of the cast.
The web drama is about a K-Pop star, making it one of the few talking about idols in 2021.
"So I Married The Anti-Fan" is available on Naver TV, V-Live, iQIYI, Viki, and more.
Here is more information.
So I Married The Anti-Fan (2021)
Information
Title: So I Married The Anti-Fan / Geuraeseo Naneun Antipaengwa Gyeolhonhaessda / 그래서 나는 안티팬과 결혼했다
Director: Kang CheolWoo
Writer: Nam JiYeon, Kim EunJung
Network: iQIYI, Viki, Naver TV, V-Live
Runtime: From April 30
# of Episodes: 16
Genre: Romantic comedy
Language: Korean
Summary
The romance between a top star who is re-writing the history of K-Pop and a journalist named as his anti-fan who get to live together.
Cast
Choi TaeJoon as WhoJoon
WhoJoon is a top K-Pop star in his 6th year since his debut. He is very popular. Unlike his cold image, he is a pure man who carries the heartbreaking memory of his first love.
Girls' Generation's (Choi) SooYoung as GeunYoung
GeunYoung is the anti-fan of WhoJoon and a journalist in her 3rd year. She dreamed to be a Wonder Woman in the journalist world but she is just doing this and that for a magazine.
2PM's ChanSung as JJ
JJ is the son of a chaebol family. He used to be a trainee with WhoJoon and Oh InHyung. Now, he is the CEO of Spigen Entertainment.
Han JiAn as Oh InHyung
She dreamed to be a star. She trained with WhoJoon and JJ and entered Spigen Entertainment. However, she is not popular.
Kim MinKyu as Go SooHwan
He is a handsome photographer who works with GeunYoung.
Teaser & Poster
Here is the teaser.
Here are the official posters.
About the webtoon
The novel "So I Married the Anti-fan" (2018) by Kim EunJung was adapted into the webtoon "So I Married the Anti-fan" (in Korean "그래서 나는 안티팬과 결혼했다") (2018-2020) by JaeRim and EunSol. You can read the webtoon here (Korean) and the novel here (Korean).
You can have a glimpse at the webtoon below.
As time passed, the drawing changed a bit (above the earlier part and below the later part).