You might be wondering if you read that correctly, but yes, EXO's D.O once had to be hit in the face multiple times before in the past because of some fans.
But you should also relax, because it's not what you really think, and it's not entirely the fault of the fans either, sort of.
To begin, if you've watched the film 'Cart', which stars D.O in it, you probably know where this is going. In 'Cart', there's this one scene where actor Kim HeeWon has to act out a scene where he slaps D.O's face quite hard.
So...
In acting, actors often really do hit or slap, to get the full realistic effect. It's part of the job. It turns out that a lot of EXO-L's were present during the scene's filming, watching D.O get slapped silly in the face.
It's the scene below.
That looks like it would hurt quite a bit right?
You can already imagine what the EXO-L's watching would have done right? Yes, they were actively voicing their concern over D.O, which was both a sweet yet not the desired reaction.
Because the fans' protest such as "No!", 'Stop!" and etc. were all included in the take, they had to do this scene over and over a few times.
"I hit him once, and afterward, the crowd suddenly yelled 'ahh!' 'no!' 'stop!' everywhere."
So Kim HeeWon actually had to tell the EXO-L's:
"Please, be quiet. The more you protest and yell while we film this, we're going to have to re-do this and he's going to have to keep getting hit."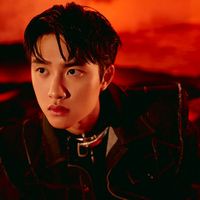 Became a fan of D.O.
You can now view more their stories