To celebrate BLOCK B P.O's first MC gig, WINNER's Mino sent the idol a special gift to get his energy pumping.
BLOCK B's maknae, P.O, just began his first MC job for Olive TV's "Strange Restaurant", and it was none other than his best friend Mino, who was there to cheer him on. To celebrate his bff's new challenge, Mino sent the filming set a special coffee truck for the whole staff.
The special coffee truck was bombarded with words of strength, "Strange Restaurant do well~ P.O hard carry! - From P.O's best friend, Song Mino." and "Hyungs, please take care of our JiHoonie~". The bond between the two was well known since the members' pre-debut days. Song Mino and P.O first met when they both trained to debut as a member of BLOCK B. Although Mino left the group right before its debut, the pair have kept in touch for both of their debuts and activities.
Fans were excited to see that their friendship went beyond the screen as the gift of a coffee truck with adoring words were nothing but feels. P.O will be taking his first step as a variety show's MC through "Strange Restaurant", which is a cook-off between stars who have to cook a delicious dish just with the vocal instructions of their chef teammate.
BBCs will be able to see P.O on "Strange Restaurant" starting in March.
Must Read : Video )) Waitingroom Live : Block B – Yesterday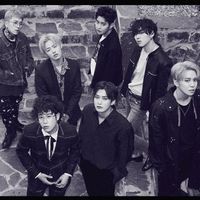 Became a fan of Block B
You can now view more their stories