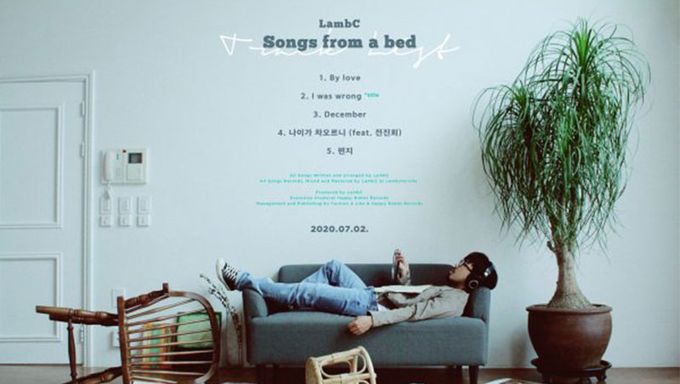 All-round musician LambC released his new EP "Songs from a Bed" on 2nd July.
LambC, who earned the modifier "Green Lover" by releasing a series of sweet love songs last year, has returned with emotionally more mature music in the new EP.
The first track, "By Love," is a song that sings of hatred and grief over disputes arising from socity and human relationships, delivering comfort to those in need and pain.
The EP's title track "I was wrong" is a song of lyrics about the lingering and expectations of a man who regrets after a breakup, featuring a well-organized arrangement and background vocals.
The third track, "December," is the brightest love song in the album. The couple's sweet moments of spending time together at home were expressed with sweet voices and cheerful arrangement.
The fourth track, "Foolish (Feat. Jeon Jinhee)," infused unique emotions with singer-songwriter Jeon Jinhee's participation in piano and vocal, and drew great expectations from fans on the day of the track list's release.
The fifth and final track, "Dear," is a gift to those who love and appreciate, featuring a comfortable melody and sincere lyrics. According to its agency Happy Robot Records, LambC focused on the keyword "music that satisfies itself" while working on the EP.
He also revealed his aspect as a producer by carefully checking not only the lyrics, composition, and arrangement of the songs but also the details of music, such as art design.
LambC, who debuted in 2015 with the single , is a singer-songwriter who is currently active in various fields in the music industry. Based on his broad understanding of popular music he acquired while graduating from Berkeley Music University majoring in Music Production & Engineering, he made his name known to the music industry by composing, writing lyrics and singing his own music as well as producing music for other artists. In particular, it is worth noting that Park Ji-min, a winner of the TV show "K-pop star" and former member of JYP Entertainment, LambC was in charge of the overall production of a track called "Star."
The singer himself expresses sincere gratitude several times, but the explosive response of his representative work "Love Like That" is an unusual success without special activities and strategies. Starting with 1.7 million views on YouTube by the current standard, his album activity has generated positive responses not only in Korea but also in the United States and Southeast Asian countries. Spotify, the world's largest music streaming service, LambC has achieved the monthly listeners up to 200,000 and an average of 170,000, proves LambC's musicality and his potential for success in overseas markets. LambC hosts a live broadcast of "Lamdom Radio" on YouTube every Monday night at 9 p.m. to communicate with fans not only in Korea but also in many countries. "Lamdom Radio", which is conducted alternately in Korean and English, is well received by overseas fans interested in Korea and the Korean culture. Every Monday night, "Lamdom Radio" delivers quality information through four different sections and meets viewers with sophisticated music selection.
Meanwhile, LambC will step up his new EP activities, performing and promoting Korean indie music under the name of "K-Indie" overseas.