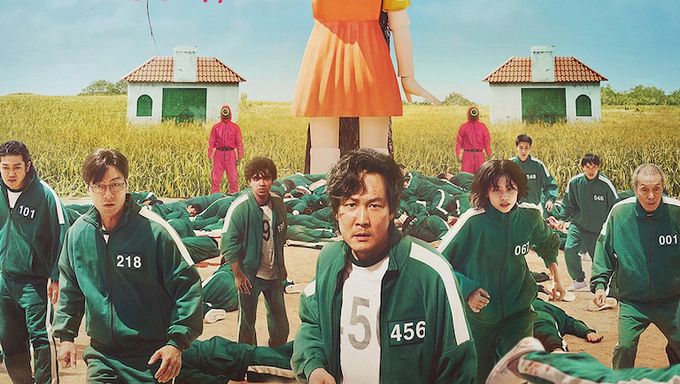 "Squid Game," tells the story of people risking their lives while participating in a mysterious survival game with a prize of 45.6 billion won (about 40 million dollars). 
The leads in this drama are Park HaeSoo and Lee JungJae.
Park HaeSoo started his career as a stage actor and steadily made his way to film and television. He has acted in the dramas "Six Flying Dragons", "The Legend Of The Blue Sea" and "Prison Playbook".
Lee JungJae has acted in the dramas "Chief Of Staff" seasons one and two, "Delayed Justice", and made a special appearance in "Drama World". 
Actor Wi HaJun is expanding his field of acting in this drama. He has also acted in the dramas "My Golden Life", "Something In The Rain", "Romance Is A Bonus Book", and "Matrimonial Chaos".
Jeong HoYeon, who has captured the fashion world with her charisma, is heralding the emergence of a strong newcomer with her acting debut in "Squid Game".
The cast also includes Heo SeongTae, who showed a strong presence in works such as "Beyond Evil", "Psychopath Diary", and "Watcher" and Kim JooRyeong who worked with the director Hwang DonHyuck in "Silenced".
Oh YoungSoo, a long-time theatre, film, and drama actor, and Anupam Tripathi, who has nurtured passion and skill in acting in Korea, will be appearing as contestants in "Squid Game" as well.
Director Hwang DongHyeok introduced "Squid Game" as "a huge allegory that indirectly depicts modern capitalist society".
Hwang DonHyuck ("The Fortress", "Miss Granny", "Silenced") is also the writer of "Squid Game".
Here is more information.
Squid Game (2021)

Information
Title: Squid Game / Ojinjeo Geim / 오징어 게임
Director: Hwang DongHyuck
Writer: Hwang DongHyuck
Network: Netflix
Runtime: From September 17
# of Episodes: - 
Genre: Thriller
Language: Korean
Summary
Individuals participate in a mysterious survival game where they risk their lives to become the ultimate winner.
Cast 
Park HaeSoo as SangWoo
A character that radiates sides of good and evil. He grew up in the same neighborhood as KiHoon and meets him again while participating in the game. He's a genius that attended Seoul National University and became a success as the head of an investment team at a security company. Despite his success, his only choice is to play the game after making a terrible decision.
Lee JungJae as KiHoon
KiHoon participates in the game after struggling through business failure, a divorce, debt, and gambling. However, he refuses to lose hope in humanity, even in extreme situations. He tries his best to hold on to his respect and hope for humanity while going through fierce competition.
Heo SeongTae as DeokSoo
A gangster that lost his organization's money and is playing the game to try and win it all back. He is not afraid to use violence while playing the game.
Wi HaJun as JoonHo
 A police officer who infiltrates the game to try and find traces of his missing brother.
Jung HoYeon as SeByeok
A North Korean defector who has lived a rough life. She is not trusted by the other game participants.
Kim JuRyeong as Beauty
She is a tough and tenacious character that plans on sticking to the strongest team who is likely to win.
Anupam Tripathi as Ali
A polite young man who is thankful for the smallest things.
Oh YoungSoo as IlNam
He is the oldest contestant and enjoys playing games in extreme situations.
Poster & Teaser
Here is one of the teasers. 
Here are the official posters.