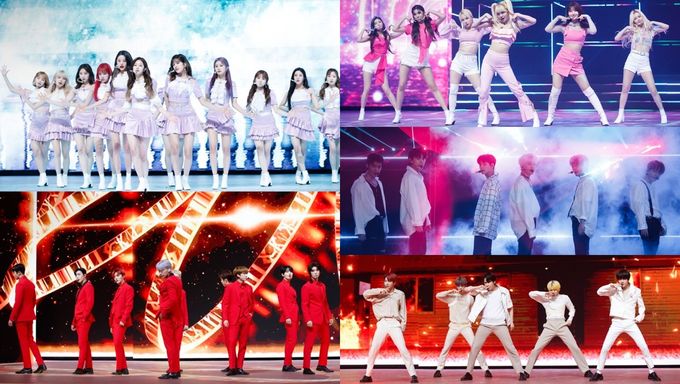 "KCON:TACT 2020 SUMMER" is the hottest K-Pop event all around the world at the moment. Are you enjoying the festival?
For those of you who unfortunately could not attend the Day 3 on June 22, we got you covered with a sum-up of stages performances and episodes! If you are curious to check out the lineup for the rest of the week, you can take a look here.
You can check Day 1 review and Day 2 review too. On Day 3, the lineup was composed of IZ*ONE, ONF, SF9, TXT, and EVERGLOW. They had prepared a lot for fans.
Opening Performance
EVERGLOW with their white shinning outfits opened the show with hot beats bringing viewers' attention and tension up.
EVERGLOW Stages
EVERGLOW then started their stages with two girl crush songs 'Dun Dun' and 'Adios'. The songs had addictive and powerful beats.
The group then greeted the fans watching and the FOREVER in front of them through the screen. Members were happy at the comments such as "Queens" and the hearts sent by fans. They mentioned that it was their first online concert.
For the health of the viewers, they held a short stretching section before moving on to the next song 'Bon Bon Chocolat'.
TXT Meet & Greet
TXT was the first group to hold a Meet & Greet section with fans. Eric Nam was the MC. Members explained that they have been spending time by taking lessons and enjoying hobbies.
It has only more than one year that TXT debuted but they reached number 1 in charts around the world. Next on, they talked about the titles of the songs of TXT that are particularly long in Korean. Eric Nam asked if there were any interesting episodes about them.
Huening Kai shared that at the beginning at their promotion for '세계가 불타버린 밤, 우린... ' or 'Can't You See Me?' in English, he forgot the last word of the title in Korean '우린' but that he later remembered it.
They moved on "TXT-FFICIAL TALK" section and TXT asked to point at the member that applies the best to the question. SooBin was picked as the most difficult member to take care of when living together and YeonJun was picked as the one who searched his name the most on social media and portal sites.
It was already the end of their Meet & Greet section with their AR tower filled up with comments. They gifted a lucky fan with designed and signed sneakers.
ONF Stages
ONF appeared on stage with white and black outfits and started their stage with the upbeat song 'We Must Love'.
They then greeted Fuse with high tension, they mentioned that it was also their first online concert and that they were more than happy to be here.
With their playful energy, they started the "Let's Play with KCON-er" section. They played divided into two teams and tried to match the songs and the singers by imitating.
Excited the members shared their love for their fans thanking them and said that they love them so much. Next, they performed the emotional song 'Why' and the love story song 'Moscow Moscow'.
Moving on to another talking section, members talked about "Road to Kingdom" through which they gained a lot of new fans. They opened the "Fan's Choice" section to know which song they performed on "Road to Kingdom" fans would like to see again and to answer some questions.
They advised 'It's Raining' and 'Complete' as good summer songs. J-Us explained that he got closer to his senior PENTAGON's Hui in the show through his aegyos.
ONF then held a 1-1 Call with a Fuse who got into the group through "Road To Kingdom". She chose the song 'New World' as her favorite ONF stage on "Road To Kingdom" so the group lastly performed on that song which received a lot of love.
IZ*ONE Meet & Greet
IZ*ONE was next on the Meet & Greet section where they filled viewers with their positive and cute vibes. The group recently came back with "Oneiric Diary" and had reached number 1 across the globe. Members said they did not expect such a good result. IZ*ONE was cutely impressed by Eric Nam's English native speaker pronunciation of their album name.
They moved to the "IZ*ONE-FFICIAL TALK" section. They individually selected one member for each question asked such as who cooks the best or who are you still curious about.
The group revealed that they talk a lot by messages such as for ordering foods and said that EunBi sends a lot of pictures. They chose Yena as the member who is the easiest to fool, she explained that she almost became a victim of voice phishing.
IZ*ONE moved on the game section "Drawing Dance Revolution" where they use AR drawing to make members guess the songs. The songs included were OH MY GIRL's 'Dolphin', BLACKPINK Jennie's 'SOLO', and Red Velvet's 'Peek-A-Boo'.
It was already the end of their bubbly Meet & Greet section with their AR tower filled up with comments. They gifted a lucky fan with designed and signed sneakers.
TOGETHER Challenge
SF9's RoWoon was chosen for TOGETHER Challenge. He completed the "We can [] Together" with "imagine". He nominated Kang Daniel for the next challenge.
SF9 Stages
SF9 started their stages with their most recent title track 'Good Guy' in dazzling red suits with golden rings flying on the screen.
SF9 members were excited to greet fans. They were happy to meet FANTASY 'face-to-face' as it is very rare these days.
They started the section "1:1 Live Call" to do a wish for fans. The FANTASY on the video call wanted to call YoungBin so she got a 1:1 call with the leader. As she wished, YoungBin made a 'heart attack' comment especially for her.
Next, fans needed to pick their ending fairy of SF9 through the comments. RoWoon was selected as the ending fairy for the next song 'RPM' and SF9 continued with fresh 'Life is So Beautiful'.
SF9 then moved to the next talking section saying they hope that their stages bring help to fans. JaeYoon also showed his dimples and Chani's his eyes.
Members said goodbye to fans and had their last stage: the captivating song 'Now or Never'.
ONF Meet & Greet
ONF was the next guest of the Meet & Greet section. For their first time since debut, they made it into the music charts with their new song 'New World', and through it, they felt their growing popularity.
They talked a bit about "Road to Kingdom", at first they were 5th and they tried hard and fans cheered on them so they could make it to the 2nd place. In "Road to Kingdom", they showed their performance skills but in the future, they want to show more of their vocal skills.
In the next section, members created facial emoticons for Shh, despair, crying, mad, pretending you did not see, and tearing a lot. Members filled the studio with their laughter.
Next, they had to make action emotions for: tension beyond this world, binge spending, feeling good, smack on the back, delivery is here, and having a heart attack.
Next, they did group emoticons for "we love you so much".
It was already the end of their funny Meet & Greet section with their AR tower filled up with comments. They gifted a lucky fan with designed and signed sneakers.
TXT Stages
TXT opened their stages with most recent title track 'Can't You See Me?' with a burning house on their back.
Members greeted the MOA that they missed a lot. TXT then answered questions from fans through the "Live KCON-er Interview". They recommended 'Our Summer' as a song from TXT they would like to recommend for Filipinos. They also answered that their first debut show stage at Mnet for 'Crown' was their favorite stage.
They moved to the next stages with mystical 'Fairy of Shampoo', energetic 'Puma', and final song 'Cat&Dog' English version.
EVERGLOW FANTASY Playlist
EVERGLOW members shared songs for a playlist: EVERGLOW's 'MOON', SunMi's 'Full Moon', Ivy's 'Sonata of Temptation', TWICE's 'FEEL SPECIAL', and Seo InGuK's 'My Baby U'.
K-Pop Cover Stage
EVERGLOW covered TWICE's 'Feel Special' on a bubbly stage.
SF9 Meet & Greet
It was time for SF9 to have the Meet & Greet section with Eric Nam. Members brightly introduced themselves as it has been 6 months since they have seen fans. They had spent a lot of time in their dorms because of social distancing, spending time cooking, gardening, sports, and more.
They started the section "SF9's title match" with fans actively participating in the comments to vote. The king of self-esteem HwiYoung was holding the competition and members tried to steal his title by showing how to shower.
The studio was turned upside down as DaWon pretending to shave with his mic placed it in a (too) low position. The two nominees for the title were JaeYoon who showered while showing his back and DaWon who shaved with his mic. After fans vote, HwiYoung decided to give the title to DaWon.
The next title on the line was InSeong's King of Winking. All the members winked and the two nominees were YoungBin and JuHo. Fans voted one more time and YoungBin was crowned by InSeong.
It was already the end of their hilarious and full of energy Meet & Greet section with their AR tower filled up with comments. They gifted a lucky fan with designed and signed sneakers.
IZ*ONE Stages
IZ*ONE made a colorful entrance with white and purple outfits in front of a castle surrounded by stars and clouds for 'Secret Story of the Swan'. They look like they came out of a fairytale.
They did a 1:1 call with Yuta from Japan where he received a support message from MinJu the member he wanted to talk to and he 'danced' to 'Fiesta' for members.
'Merry-Go-Around' is a song written by Hitomi and members performed the Japanese Version on a bubbly stage. Next on was the cute song 'Pretty' and they moved to the next section"On-Line Photo Time" where members did numerous poses following the instructions of the staff.
After the stage for 'FIESTA', they closed the day with a fan featuring stage for 'With One' with special messages from WIZ*ONE to IZ*ONE appearing on screen. They send their final greetings and love for fans.
Day 3 was also filled with perfect stages, positive energy, and idols' love for fans. It is expected that the oncoming days will be even better than before!
You can check the recap video posted by Mnet below.