BTS recently held a press conference after releasing their latest comeback album 'Map Of The Soul: Persona'.
Group member Suga, well known for being very blunt and articulate when expressing his mind, literally just nailed a question raised by a reporter of whether there would be a second BTS mainly regarding their junior idol group TXT.
He stated:
"I doubt that a second BTS will ever exist. For me, I had many artists that I looked up to and wanted to be like, but I ended up becoming a member of BTS instead. I hope that great artists appear in the future because I think that's more important and cooler than having another BTS."
This is definitely something that aspiring K-Pop idols must understand. Imitation won't last and while it's great to have certain artists as inspiration, it's also equally important that people also aspire to create their own identities as artists as well.
And as BTS has pretty much done what everything that every other K-Pop idol groups have been dreaming of doing, the odds of "the next BTS" ever happening seems pretty low at this point.
Read More : TIME Magazine Includes BTS In 100 Most Influential People Of 2019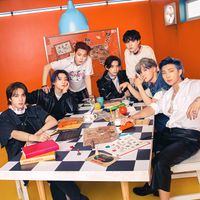 Became a fan of BTS
You can now view more their stories