There are three things that can never be hidden. Poverty, sneeze and love.
A lot of people think that love could be hidden. Not expressing their feelings in to words or not telling anybody around can't really hide the feeling completely. Sure those actions can hinder others or the loved ones from acknowledging your feelings clearly. However, that doesn't mean that the feeling is never spilled. 
Love can be the hardest thing. But sometimes, it can be the most obvious thing for it shows from the smallest action, eye contact and even choice carefully chosen words. The atmosphere around people who are spilling love has a secretive yet sweet and warm kind of air. 
Recently, fans have detected such sweet air flowing around the two hottest musicians in K-Pop. Can you recall anyone you've noticed? 
Yes, that's right. The heart tickling air was caught between G-Dragon and IU. They've seem to have met each other through the program, "Infinity Challenge". There was a clear air of awkwardness between them at that time. They were so polite to each other and they didn't even face each other unless necessary.
Just look how awkward and stiff they were around each other!
However, as more years pass by and as they gained acquaintance with each other, the air between them became more natural. Since both musicians had great passion in music and were both so well renowned in the field, they started sharing musical inspiration with each other. G-Dragon has invited IU to sing in his concert twice already. Not to mention IU's latest album title song was featured by GD. 
In the concert, during their duet, fans caught the tinglie tanglie cute air shared between people who just started to grow love. Sure, their actions can be all planned and worked out as a preparation for a perfect stage. However, it was not only their actions but their eyes contacts and small grins they've shared that built up their atmosphere. 
Now, for the final proof. GD has had something very meaningful and sweet. "She means a lot to me and I'd like to say thank you." We don't usually say "you mean a lot to me" to our co-workers, don't we? Hmm, guess she is a great inspiration to me. Inspirations are great positive feelings, aren't they? 
What do you think? IU and GD. Are they Twilight fiction or a National Geographic real? 
Must Read : The Bad Boys of K-Pop We Can't Help But Love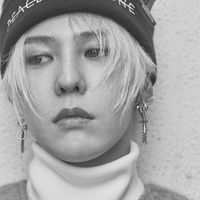 Became a fan of G-Dragon
You can now view more their stories