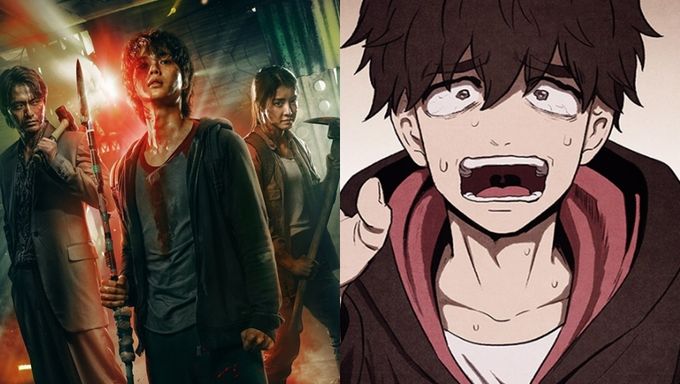 The Netflix Original drama "Sweet Home" is based on a popular thriller-horror webtoon of the same name. It joined the numerous dramas of 2020 based on webtoon. The drama will be violent and bloody and may not be watchable by everyone.
Director Lee EungBok is in charge of the adaptation. He previously worked on "Descendants of the Sun", "Goblin" and "Mr. Sunshine". The drama is produced by the Studio Dragon that worked on "Mr. Sunshine", "Arthdal Chronicles", "Hotel del Luna", "Her Private Life" and more.
The cast includes as the lead: Song Kang ("Love Alarm"), Lee JinWook ("Voice"), Lee SiYoung ("Live or Die"). Supporting roles are acted by Park GyuYoung ("It's Okay To Not Be Okay"), Lee DoHyun ("18 Again"), Go MinSi ("Secret Boutique"), Go YoonJung, and more. Song Kang and Lee DoHyun are rising actors.
Here is more information.
Sweet Home (2020)
Information
Title: Sweet Home/Seuwiteuhom/스위트홈
Director: Lee EungBok
Writer: Hong SoRi, Kim HyungMin, etc based on the story of Carnby Kim and YoungChan Hwang
Network: Netflix
Runtime: From Dec. 18
Genre: Thriller, Horror, Mystery
# of Episodes: 10
Language: Korean
Summary
It tells the story of a loner high school student who lost his family and the bizarre and shocking things that happened to him in his new flat.
Cast
Song Kang as Cha HyunSoo
Cha HyunSoo is a loner high school student. He is lost his family and is left all by himself. He moved to a new flat and strange stories happen to him.
Lee JinWook as Pyun SangWook / Wook Pyeon
SangWook is a former detective who everyone misunderstands as a gangster. His face is covered by scars and he has a secret past.
Lee SiYoung as Seo YiKyung [not in the webtoon]
YiKyung is a former fighter from the special forces unit. She has great judgment and great combat skills.
Lee DoHyun as Lee EunHyuk / Hyuk Lee
EunHyuk is the brain of the green home. He leads the resident of the green home because he stays cool head even against unimaginable disaster.
Park GyuYoung as Yoon JiSu
She is 20 years old. She is positive and plays the bass.
Go MinSi as Lee EunYu / Eun Lee
She is the younger sister of Lee EunHyuk. She says everything she wants.
Kim NamGee as Jeong JaeHeon
He is a Christian and a professor of Korean Language.
Kim KapSoo as Ahn GilSeop
He is a terminally ill patient holding tight on his life.
Go YoonJung as Park YuRi
She is taking care of GilSeop.
Kim SangHo as Han DuSik
He is a middle-aged man who is talented at making weapons.
Poster and Teaser
Here is the drama official teaser with English subtitles.
Here are the official posters.
About the webtoon
"Sweet Home" by Carnby Kim and YoungChan Hwang is popular in and out of Korea. You can read the webtoon in Korean and in English.
You can check the teaser of the webtoon below in English.
You can have a look at the webtoon below.
Read More : Lee DoHyun Receives Coffee Truck From IU On The Set Of His New Drama "Sweet Home"