T-ARA will be releasing their last album on May 17th, and is to disband afterwards. 

On this coming May, T-ARA's contract will come to an end, and so, their comeback on this May will be their last album as a team. Their performance for this album will end on June, with concerts in Korea and outside as well.
T-ara, one of the longest living idol working for 9 years, debuted in 2009 and released diverse hit songs such as 'Bo Peep Bo Peep', 'Roly-Poly' and 'Time to Love'.
However, after they have gone through bullying issue of Ryu HwaYoung, they lost their popularity, and was condemned harshly. From then, they rarely performed inside Korea, but in other countries. In one television show, EunJung mentioned about the issue and said that it was true that they had to apologize but, the public did not and till now, do not know everything. She said with tears, "I hope the public would just hear us out after some time, and love our music again."
There are still controversies of Ryu HwaYoung issue, some  still are not so happy to see them performing. However, others support T-ARA
, saying that what they have gone through was almost like a witch hunt, and hope best with their last album. 
Must Read : JiYeon's Comeback Preparations Stopped, Album Release Pushed Back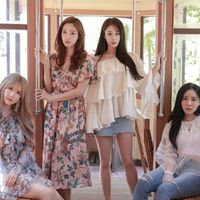 Became a fan of T-ARA
You can now view more their stories