EunJi of Apink is to release her 2nd mini album, and her rolling music was released today, on April 6th.

Rolling music is a short video that is made with the short highlights of the tracks in her new album.
Her 2nd album "The Space (Gong gan)" is consisted of 5 tracks; 'Spring like You', 'The Pain of First Breakup', 'The Boy of the girl', 'Moon of Seoul', and last but not the least, 'Spring like You Piano ver.'.
'Your Spring', the title song of the album, is a folk-pop which carries the sweet scent of the spring. Her voice sounds like the breezes with her guitar, making a relaxed mood for  listeners. Also there are four others songs with their own distinctive colors. 'The Pain of First Breakup' is about unexplainable feelings mixed with longings. 'The Boy of the girl' is a story of EunJi's first love written by her and 'Moon of Seoul' is about the same lonely feelings we all feel at night. The lyrics empathizes with everyone, and gives a warm tap on the shoulder.
Her first solo album was a big success, and critics expect this comeback to be as successful. She is highly praise because folk-pop is not the usual genre idols choose to sing, however, she was able to produce such good music in her own way.
The whole tracks will be released on April 10th.
Must Read : Teaser )) Jeong EunJi 2nd Mini Album "The Space" Rolling Music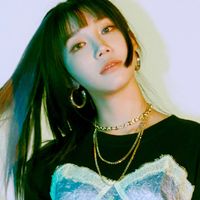 Became a fan of Jeong EunJi
You can now view more their stories