TEEN TOP's ChunJi made the audience laugh and cry repeatedly during the 100 hour musical.
ChunJi has just begun his role in the Japanese musical, "My Bucket List". Last weekend, the first night of the musical finished successfully. The story is about two young youths who goes on an adventure for their bucket list.
Throughout the 100 hour play, ChunJi made the audience laugh and cry with his outstanding performance. At the end of the show, he received a loud round of applause and praise. Many news outlets have praise both the musical and the idol for its entertaining characters and story line, as well as the music.
ChunJi will be participating in the "My Bucket List" Japanese musical from February 25th to March 12th at the Tokyo Seaside Festival Hall B in Odaiba, Tokyo. After the musical, he will be concentrating 100% on TEEN TOP's upcoming March comeback.
Must Read : MV )) TEEN TOP – Love Comes | REMIND 2010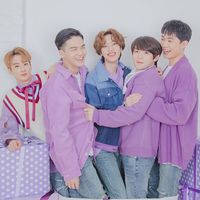 Became a fan of TEEN TOP
You can now view more their stories