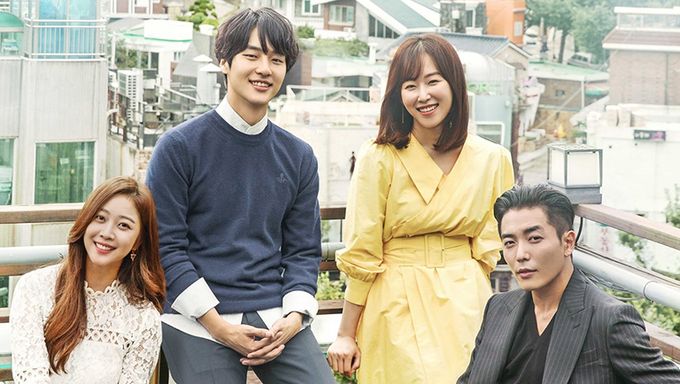 You can check the temperature of love through this lovely drama very soon.
A lot of netizens got interested in this drama because the lineup of this drama seems quite cool. The queen of romantic-comedy drama, Seo HyunJin will appear in this drama with Yang SeJong, who is rising as a rookie actor recently. What attracts people the most is that this drama is going to deal with classic love story around women and men. For those who got sick of difficult stories in drama or too crazy dramas, I can tell that this lovely drama will hit the spot.
For now, Seo HyunJin, Yang SeJong, Jo BoA, Kim JaeWook and Block B's P.O are considering to act  very positively or decide to appear in this drama. Many fans of P.O expected that P.O would show off his nice acting skills in this drama because P.O has produced and also acted a play "Superman.com" . Other than that play, he kept acting in several works so far. But this is the first time for P.O to act in drama, you can check P.O's great change into an actor.
Must Read : "The Package (2017 Drama)": Cast & Summary
Meanwhile, the drama "Temperature Of Love" is going to be broadcasting in September, 2017 after the end of "Falsify" on SBS.
Temperature Of Love
Information
Title: Temperature Of Love/ 사랑의 온도 / Sarangui Ondo
Genre: Romance, Comedy
Director: Nam Gun
Writer: Ha MyungHee
Network: SBS
Runtime: 2017
Air time: Monday & Tuesday 22:00 PM ~
# of Episodes: TBA
Language: Korean
Summary
The story of  "Temperature of Love" is based on the noble "The Good Soup doesn't answer to a phone call" of Ha MyungHee. This drama is going to deal with the young adults' story of wandering and loving without noticing each other's blue and wound.
Cast
Seo HyunJin as Lee HyunSoo
Lee HyunSoo is a writer who set the worth of honesty and recklessness as her highest priority. She doesn't lie and pursue a practical, realistic sense of life. Lee HyunSoo decides everything fast and has a clever, a unique personality so got a nickname as 'Paradise of curiosity'.
Yang SeJong as On JungSeon
On JungSeon, an owner chief of 'Good Soup', which received a Michelin star. Usually he pursues being nice but he has a solid moral standard by himself, so he doesn't like to be ruled or to rule either. He likes to win in anything and also enjoys working out. On JungSeon looks perfect but got a Achilles tendon when it comes to his mother.
Kim JaeWook as Park JungWoo
Park JungWoo, the CEO of ON entertainment, is a bright guy who also got a strong physical ability. He studied abroad in USA , graduating with MBA after he moved there at his age 19. He succeeded by himself and likes On JungSeon, played by Yang SeJong but also gets attracted by Seo HyunJin as Lee HyunSoo.
Jo BoA as Ji HongA
Ji HongA, a daughter of a major company's CEO, enrolled in a broadcasting writer's association out of her wish to be a screenwriter when she was a freshman in university. She was born with so many things already and it makes her hard to achieve difficult things in her life. Ji HongA always has received spotlights from people when she gets along with Seo HyunJin, however, On JungSeon's eye seems to be fixed at Seo HyunJin.
Block B's P.O as Kang MinHo
Kang MinHo, who likes hip-hop, starts to cook as a job since his single mom got sick. Working at On JungSeon's kitchen, after eating the food he made, Kang MinHo makes his mind to work there.
Interesting Facts
Seo HyunJin and Yang SeJong worked together in the drama "Romantic Doctor, Teacher Kim (2016)" so many fans of them are sure that they will show off great chemistry between them in this drama too.
Here are the official posters.