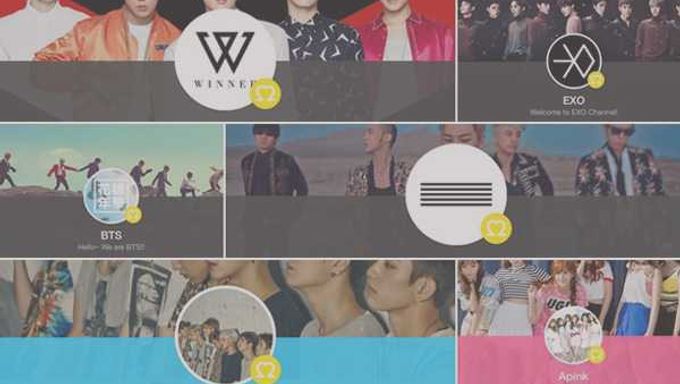 It's actually the top 10 accounts based entirely on the amount of followers each one of them has. 

"V" is an app that lets you watch the personal broadcasting videos of celebs. NAVER's Vapp shows the amount of influence celebrities have, so we have created a list of the top 10 idol channels with the most followers on the social media platform. Data was collected on January 4, 2016, via TOP STAR NEWS's Hot List, and while this is subject to change at any time, the current list is a nice portrayal of who is really using Vapp. Did your favorite idol group make the list? Check out the 10 idol channels with the most Vapp followers below.
Must Read : Who Got The Most Fans In V app?
The 10 Most Followed Idols On Vapp
1. BIGBANG 
SUBSCRIBER: 1,916,033 (as of Jun 5)
2. BTS
SUBSCRIBER: 1,640,064 (as of Jun 5)
3. EXO
SUBSCRIBER: 1,292,412 (as of Jun 5)
4. GOT7
SUBSCRIBER: 1,126,934 (as of Jun 5)
5. iKON
SUBSCRIBER: 1,077,163 (as of Jun 5)
BIG BANG, again, win the top 1,915,618 subscribers. Following the invincible BIG BANG, BTS rank number two in the list. Each of them attracted 1 million, 915 thousands and 1 million, 639 thousands fans, followed by, EXO, GOT7, iKON 1.2 million, 1.1 million, 1 million in the intense competition. Not like expectation, EXO channel had relatively small since theirs opened last month, not from the first place.
6. APINK
SUBSCRIBER: 1,022,326 (as of Jun 5)
7. WINNER
SUBSCRIBER: 823,139 (as of Jun 5)
8. INFINITE
SUBSCRIBER: 852,754 (as of Jun 5)
9. BTOB
SUBSCRIBER: 791,438 (as of Jun 5)
10. BEAST
SUBSCRIBER: 751,305 (as of Jun 5)