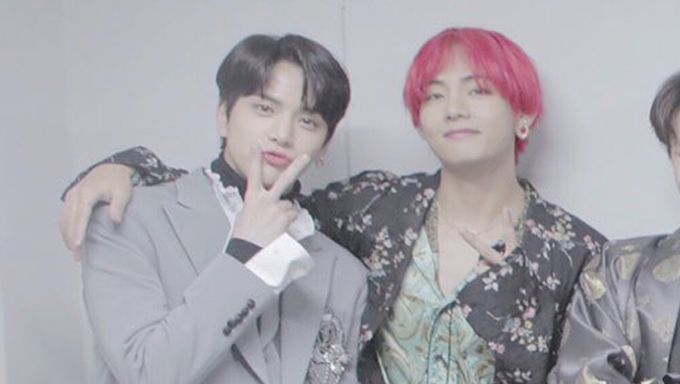 On December 1st, Melon Music Awards (MMA) 2018 was held. During that time, Wanna One, BTS, and many more idols were on stage performing. To find out who had performed, be sure to check out the lineup here.
Previously, Kpopmap published an article about how THE BOYZ's YoungHoon was starstruck when he saw BTS's V during Asia Artist Awards (AAA) 2018. He was not able to have much interactions with V and many fans were hoping that he would eventually be able to do so.
It looks like he had fulfilled his wish during MMA 2018!
On THE BOYZ's official Twitter account, they uploaded a group photo of them together with BTS. Fans noticed how at the left side of the photo, YoungHoon was standing right next to V!
[📸] 멜론뮤직어워드에서 방탄소년단 선배님을 만나뵈었습니다🙌 평소 존경하던 선배님들을 만나 너무 영광입니다😊 더보이즈에게 오늘은 따뜻한 봄날이었습니다💐#THE_BOYZ #더보이즈 #THE_ONLY #No_Air pic.twitter.com/FIkPVbrI5U

— 더보이즈(THE BOYZ) (@Creker_THEBOYZ) December 1, 2018
V had placed his arm around YoungHoon which caused many fans to feel happy and excited for him. YoungHoon was also seen doing a 'V' pose which caused fans to find him really adorable.
It looks like YoungHoon finally had the chance to talk to V and also get closer to him.
Hopefully, we would be able to see more interactions between these 2 idols in the future!
Read More : THE BOYZ's YoungHoon Got People Asking "Who Is He?"