Dear K-Pop fans in North America, especially those who are living in L.A, Austin, NY, Detroit, and Toronto. Dear fans of DAY6 living in N.A. How are you? 
How are you? Fine? Good? Doing well?  
Well, a news for you that will get you screaming for happiness!
DAY6 will be having a fan meeting tour around 4 states of U.S, L.A, NY, Austin, Detroit, and Toronto, Canada. Through "DAY6 LIVE & MEET IN NORTH AMERICA 2017", the band will be having their first fan meeting/concert in U.S and Canada.
It's not their first time performing outside Korea, they've already visited 3 countries in Asia including Indonesia, where 1300 number of fans came to visit and cheer starting from their arrival in the airport. 
How enjoyable and energetic DAY6's concert is, is already quite proven by concerts held in Korea and other Asian countries. Fans of U.S. have been wanting badly to be able to see and listen to the band live. Though it's not been long since the group debuted, numerous K-pop lovers inside and outside Korea have recognized the talent and their fame just gets wider every day. 
The fan meeting/concert in U.S will be held from October 20th starting in L.A, continuing on to Austin on 22nd, NY on 27th, Detroit on 29th, and Toronto, Canada on 29th. 
The band has performed on Summer Sonic, one of the biggest rock festivals in Japan and is communicating with fans more often than ever by releasing a track monthly. They will be having a concert in Korea, "Every DAY6 Concert in September" in Hongdae, Korea from September 1st to 3rd. 
Must Read : Review of SEVENTEEN's 1st World Tour "DIAMOND EDGE" In Dallas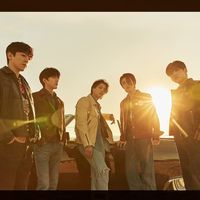 Became a fan of DAY6
You can now view more their stories