When a question "Who is the most influential person in music industry in Korea?" is asked to Koreans in 1990s, I am sure 90% of them would answer "Seo TaiJi." Though idol industry has growing bigger than ever, there is no group nor a musician who can beat Seo TaiJi's influence and their music until now. 
The group "SEO TAIJI and BOYS" are known as the living legends and many number of musicians look up to the group. Seo TaiJi, the main member of the group, has created all their music and dance. His talent cannot be explained by comparison since no one can catch up his ability. He, and the group were the icon of 1990s. 
In the era of idols flooding over day by day, BTS has shown most powerful influence inside and outside of Korea. Everything about them becomes an issue, not only music but also their fashion, daily lives and even who they met. People say, if the icon of 2000s has to be chosen now, it'd be BTS.
Now, the two major icons are preparing a collaboration. On Seo TaiJi's 25th anniversary concert, BTS members will be joining SEOTAIJI and BOYS on stage, performing their song. Their collaborations is one of the biggest, hottest event in music industry. Fans look forward to see the two groups from different era to melt in what they've got to create something  so new. 
The collaboration can only be seen in the concert of "LOTTE CARD MOVE: SOUND TRACK vol.2 <SEOTAIJI 25>". Not only BTS, but also YounHa, Urban Zakapa and other talented indie bands are known to be joining the festival.
Must Read : 5 Reasons Why BTS Is Different From Other K-Pop Idols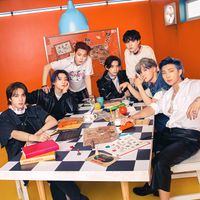 Became a fan of BTS
You can now view more their stories