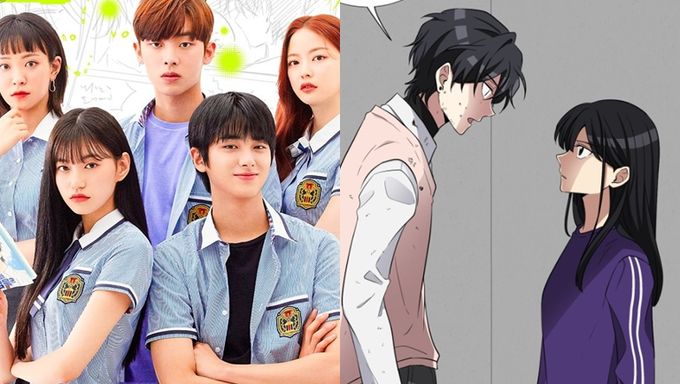 "Pop Out Boy!" (previously known as "The Girl And The Boy Coming Out Of Manga") is a romance fantasy web drama of Playlist Studio based on webtoon. The drama is one of the numerous dramas of 2020 to be adapted from webtoon.
"Produce X 101" Jellyfish trainee Kim MinKyu is making his acting debut with the lead role in this drama. Many are looking forward to watching him. Weki Meki's DoYeon is the lead actress. She previously acted in web dramas and as a supporting role in the drama "Short" (2018).
Choi HyunWook is a rookie actor part of Gold Medalist, the new agency of Kim SooHyun, Kim SaeRon & Seo YeJi. He gained popularity in Korea among the 10-20s through his role in web drama "Real:Time:Love" part 1 and 2. Han JiHyo acted on the web TV show "Real High Romance" and in "Crash! Insignificant Roommates" with Golden Child members. Model Lim BoRa is a TV show celebrity, she is mostly known for being rapper Swings's girlfriend.
Don't forget that Playlist Studio is easy to access with multi-language subtitles. For the links, check them down the article. Playlist Studio produced hit web dramas such as "A-Teen", "Love Playlist", "Ending Again" and more.
Here is more information.
Pop Out Boy! (2020)
Information
Title: Pop Out Boy!/The Girl and the Boy Coming Out Of Manga/Boy and Girl Straight Out of a Cartoon/Manjjijnamnyeo/만찢남녀
Director: Park TaeWon
Writer: Choi YuJi based on story by NimNi
Network: Playlist Studio on Facebook, V-Live, and YouTube
Runtime: From June 25
# of Episodes: 10
Language: Korean
Summary
Han SeonNyeo has the same face and name as the heroine in the manga, but her personality is her opposite. It tells her romance with handsome Chun NamWook who popped out of the manga and appeared in front of her.
Cast
Kim MinKyu as Chun NamWook
NamWook is the handsome male character of manga "SeonNyeo and NamWook". He is accepting to be a manga character without issue but he is having a hard time realizing that his decorated online blog in which he spends a lot of his money disappeared. He is a pure and innocent boy.
In the manga, he is a lonely fighter and a tragic beauty. However, in reality, he has puppy-like charms with overflowing curiosity and sociability.
Weki Meki's DoYeon as Han SeonNyeo
Despite being the daughter of the artist of the hit manga "SeonNyeo and NamWook" of 10 years ago, SeonNyeo does not like the story and characters written and created by her mother. Because she has the same face and name as the heroine of the manga, she grew up being teased.
What she hated more than the childish teasing was people's prejudice that she would have been as young and fragile as the heroine. To break free from that prejudice, she always tries her best to show her smart and strong image. She hates being cheesy.
Choi HyunWook as No YeJun
He is a close guy friend of SeonNyeo from the first year of middle school. He has been active as a model for 3 years and he is going to debut as an actor in a web drama. He started his social life when he was young, and he is professional and deep, but he is rather sloppy.
Han JiHyo as Park MinJung
Her only friends are SeonNyeo and YeJun. She wants to be a webtoon writer. She is a huge fan of the manga "SeonNyeo and NamWook". She has a unique personality. When something that is difficult to believe happens, she would find it funny.
Lim BoRa as Yoon IhNa
She is from the same class as SeonNyeo. Until NamWook appeared, she and SeonNyeo had few ties but everything change.
Teaser & Posters
Here is the teaser.
Note: Playlist is going to release more posters, stay tuned for more.
Links
Playlist Studio YouTube global channel, Playlist Studio's Instagram, Playlist Studio's YouTube, Playlist Studio's Facebook, Playlist Studio's V-Live
About the Webtoon
The webtoon started back in September 2019 and is still running. It is ranked with an incredible score of 10/10. You can read the webtoon here in Korean, it is not officially available in English.
The story of the webtoon: It tells the romance of Chun NamWook the main male character of a manga of more than 10 years old who appears in front of the high school girl Han SeonNyeo. Inside of the manga "SeonNyeo and NamWook" he comes from, the lead female character is also named SeonNyeo and she looks like her. SeonNyeo's school life stars to get twist when NamWook comes out of the manga and began to live with her under the same roof.
Here is a glimpse at the webtoon.