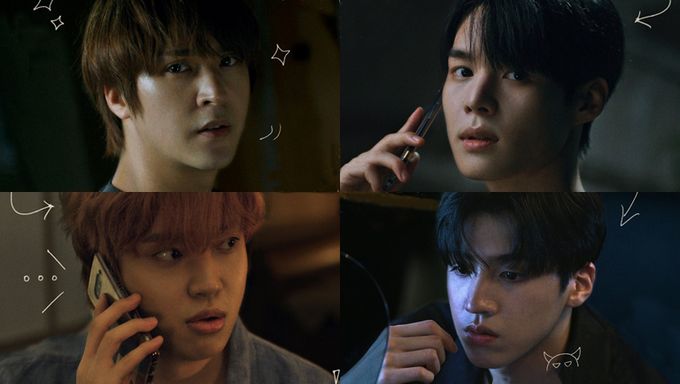 "The Guys I Want To Catch" is a web drama that will catch the attention of a lot of K-Pop fans.
Members from K-Pop groups from the older and younger generations are cast in this Dingo's web drama. It is Dingo's second web drama after "Convenience Store Fling". The cast of "The Guys I Want To Catch" is composed of Highlight's Son DongWoon, TEEN TOP's Niel, VICTON's SeJun, and PENTAGON's WooSeok.
SeJun and WooSeok have the most acting experience out of these four, they have acted in web dramas before. Son DongWoon and Niel had some guest roles before. Fans are looking forward to the F4.
Here is more information.
The Guys I Want To Catch (2021)
Information
Title: The Guys I Want To Catch / Japgo sipeun nyeoseokdeul / 잡고 싶은 녀석들
Director: -
Writer: -
Network: Dingo x U+ Idol app
Runtime: From Aug. 30
# of Episodes: -
Genre: Romance
Language: Korean
Summary
It tells the story of four men studying for the exam to become police officers. They become the icon of failure after not passing the exam and are the F(Fail) 4. They track down criminals in the middle of their studies.
Cast
Highlight's Son DongWoon as Son DongWoon
Son DongWoon is dreaming to be a police officer and his heart beats every time he hears the sound of the siren. However, in reality, he has been failing the exam so many times due to his IBS.
TEEN TOP's Niel as Niel
Niel was born in a well-off family. He has no dream but he thinks that studying to be a public servant is better than being unemployed. Since he is so smart, he is always scared of getting accepted.
VICTON's SeJun as Lim SeJun
Lim SeJun is the eldest son of a poor family with 4 siblings. He is preparing for the exam to be a police officer and he has done all types of part-time before.
PENTAGON's WooSeok as Jung WooSeok
Jung WooSeok decided to become a police officer after hearing that his first love's ideal type is a man wearing the police uniform. He wants to wear the uniform so he decided to catch criminals.
Interesting Facts
Here is the official first teaser.
[#딩고봇] 다덜 마니 기다려찌?!! 긴말하지 않을게..이제부터 월요병은 #잡고싶은녀석들 로 이겨낸닷!! 8월 30일,,,,눈치껏 빨리와라(๑•̀ㅂ•́)و✧@uplusidollive @Highlight_AUent @beastdw @TEEN_TOP @VICTON1109 @CUBE_PTG #딩고뮤직 #웹드라마 #동운 #니엘 #세준 #우석 pic.twitter.com/dZveWAJwOO

— dingo(딩고) (@dingo_official) August 20, 2021
Here is the official poster.