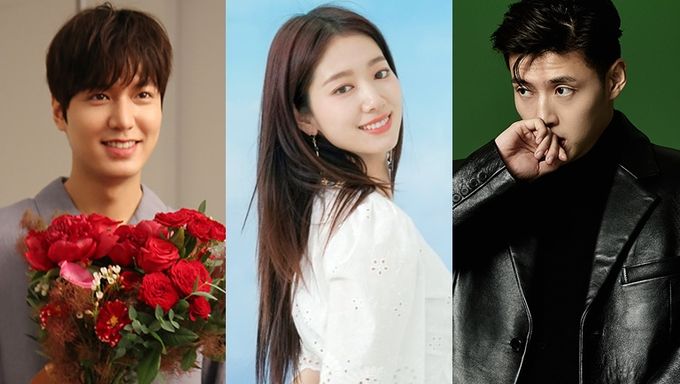 "The Heirs" has been regarded as one of the most well-acted and popular K-Dramas released in the last decade, with a clear, impressionable, and interesting storyline that centers around some of our favorite themes of family, teen drama, comedy, and romance, it is no surprise that even till this day, this series is still being binge-watched by K-Drama faithfulls.
One key point was the incredibly star-studded cast this drama presented, with the likes of Lee MinHo, Park ShinHye, Park HyungSik, Kang HaNeul, f(x)'s Krystal Jung, and Choi JinHyuk to name a few, many might wonder where are they now, well, we've got the answers.
The main lead of the series became widely popular in Korea and overseas following the airing of the KBS hit series "Boys Over Flowers" captivating the hearts of everyone with his bad boy personality, the kind of guy that everyone wants to hate but actually falls in love with. Since then, it's been one hit series after the other and that includes "The Heirs" where he plays the lovable role of 'Kim Tan', a chaebol, who seems to have a bad past as a bully but seeks to amend his wrongdoings and be better. Despite the pullback from strained friendships and family relationships, he eventually sees his efforts fruitful as reconciliation leads to a stronger bond amongst families and friends.
Often tagged as the king of rich boy characters, since "The Heirs" he has gone on to star in numerous top-grossing projects like: "Gangnam Blues", "Bounty Hunters", the SBS fantasy drama "Legend of the Blue Sea' alongside Jun JiHyun.
More recently, he starred in the SBS and Netflix distributed drama "The King: Eternal Monarch" alongside Kim GoEun where he plays the King of an alternate universe called Corea who in pursuit of the man who killed his father is transported to modern-day Korea where he meets and falls in love with a police detective, 'Jeong TaeEul' (Kim GoEun) who helps him solve the case. The hit series went on to become one of the most anticipated and viewed shows on Netflix in 2020.
Lee MinHo's popularity with each day keeps growing. Known for his charming visuals, model-like features, and incredible acting talents that captivates the audience with every movement he makes, the actor became the first Korean celebrity to reach over 20 million followers on Instagram and Facebook. With so much talent, a wide and inclusive fanbase, it is safe to say that every project that Lee MinHo stars in will be a hit.
The incredibly talented and prolific actress first gained recognition for her role in the SBS series "Stairway to Heaven" where she plays a younger version of Choi JiWoo's character and her role in the SBS Drama "You are Beautiful" brought her more fame and recognition, with many complimenting how much of a talented actress she was at a young age. From there, she went on to star as the main lead alongside Lee MinHo in "The Heirs" playing the naive, smart, and dutiful character of 'Cha EunSang', a teenager who along with her mother works for Kim Tan's family.
After "The Heirs", she has starred in more notable dramas and movies some of which are "My Annoying Brother" alongside EXO's D.O and Jo JungSuk, "Pinocchio" alongside Lee JongSuk, "Doctors", "#Alive" and more recently starring with Cho SeungWoo in the JTBC hit thriller series "Sisyphus: The Myth".
One of the most popular and awarded Korean actresses, with each work, she exceeds fans' and critics' expectations with sheer discipline and passion for her craft.
The actor known for his boyish yet captivating and intriguing charms gained the attention of many with his character; 'Kim HyoShin', a friend to Kim Tan who seems to be struggling with the expectations and rules of his family and the need for him to be perfect, leading him to be hospitalized after he tried to commit suicide. He eventually stands up to his family, stating the need for him to not live a controlled and constrained life, and eventually goes to serve in the military.
A side character that left a strong note for many, the actor since the heirs have gone on to star in various hit drama series and movies like "Midnight Runners" with Park SeoJun, the star-studded SBS historical drama "Moon Lovers: Scarlet Heart Ryeo" alongside Lee JoonGi, IU, Nam JooHyuk, and EXO's BaekHyun, as well as starring in the KBS drama "When the Camilla Blooms".
The actress gained notable recognition for her role in the drama series where she played the bratty but somewhat misunderstood character of Rachel Yoo, an heiress. The success of the series propelled her career as she went on the co-star with Song JoongKi, Jin Goo, and Song HyeKyo in the KBS widely popular and awarded series "Descendants of the Sun".
Gaining more recognition for her acting talents, the beautiful actress has gone on to star in many lead roles in series like: "Fight for My Way" with Park SeoJun,  "Arthdal Chronicles" with Song JoongKi, and "Lovestruck in the City" with Ji ChangWook.
The villain we ended up rooting for! Kim WooBin played this character to pure perfection. He cleverly portrayed the mindset of a haunted, misunderstood, and troubled teen who beyond the facade was seeking love, attention, and care from his peers and family. The charm he projected, the sense of reflection and reconciliation gives life the saying that with proper care and love, even the worse of us can become better. Since "The Heirs" he has gone on to star alongside Bae Suzy in the hit KBS drama series "Uncontrollably Fond". He however took a break from acting when he was diagnosed with nasopharyngeal cancer back in 2017.
Earlier this year the entire K-Drama universe was pleased to hear that he was feeling better and prepping to make a comeback, with many sending him congratulatory messages and wishing him a speedy recovery. In an interview with Esquire Magazine, the actor expressed his gratitude saying "It's been a while since I can greet with new work. That alone is grateful and exciting to me. It's fun to go to the shooting site these days." We look forward to him being on our screens once more.
Krystal gained recognition when she debuted with the SM Entertainment Girl Group f(x) and since then she has been in the spotlight. As 'Lee BoNa', the talented singer and actress played the role of the easy-going, fun, sassy, and charismatic teen who sometimes got on our nerves but we all loved her because she means well and has a good heart. Her quick one-liners, cute reactions, and clear English accent garnered a lot of attention making her character often the center of attention even in scenes where it wasn't intended to be so.
Since the Heirs, she has been proving her acting talents, making notable cameos in series like "Prison Playbook", "Potato Star" and "Legend of the Blue Sea" and taking on lead roles in "Player", and acting alongside Jang DongYoon in the OCN mystery series "Search".
This year, she hasn't slowed down as she has gone to star with Jang KiYong and Chae SooBin in the Netflix movie "Sweet and Sour" and starring with B1A4's JinYoung and Cha TaeHyun in the  KBS highly rated drama "Police University".
7. Choi JinHyuk
His scenes might have been short and lines brief but that didn't slow the impact he had in the series and ultimately in our hearts. Playing the role of 'Kim Won', Kim Tan's elder brother, he exuded the strong-willed, smart, and dutiful persona, a man trying to be the perfect leader and heir, while trying so hard to navigate the responsibilities and duties such a role will play on him and his relationships with others.
Ultimately a champion and supporter, he made many viewers wish he were their older brother. The series gained the star the attention he rightfully deserved and bringing him many lead roles in dramas like "Emergency Couple", "Devilish Charm", "Rugal", "Zombie Detective" and the popular tvN historical drama "Mr. Queen".
Funny, exciting, dutiful, loyal, annoying, and silly. These were the personalities of his lovable character 'Jo MyungSoo'. Having debuted in the boy group ZE:A, "The Heirs" made him a breakout star in acting as with it came a ton of casting calls and the singer went on to star in hit dramas like "The Society", "Hwarang: The Poet Warrior Youth", "Strong Girl Bong-Soon" and the remake of American TV series "Suits".
Cute. Lovable. Smart. Charming. The perfect boyfriend material.
The CNBLUE member played the role of 'Yoon ChanYoung', best friend of Park ShinHye's character and boyfriend to Krystal Jung's character. Having been caught in the middle of both strong characters he proved his value as a boyfriend and loyal friend. Giving solid advice, settling disputes, and being of help to others when needed. His soft yet charismatic character, sort of the Ying to Lee BoNa's Yang made him a crowd favorite and earning them the "Best Onscreen Couple" at the 2013 DramaFever Awards.
After "The Heirs" he went on to star in the KBS variety show "Brave Family" and the SBS musical drama "Entertainer" alongside Ji Sung, for which he won an "Excellence Award" at the SBS Drama Awards in 2016. He got his first lead role in the MBC medical drama "Hospital Ship" starring alongside Ha JiWon and Lee SeoWon. This year, he has gotten more lead roles in the Kakao TV's romantic comedy: "Not Yet Thirty" and starring alongside Lee MinKi and Nana in the MBC drama "Oh My Ladylord".
While we might be praying to the K-Drama gods for a reboot of this incredibly interesting drama, we will forever hold this cast dear in our hearts and minds.