In the history of K-Pop, there is a formula, as famous as that of Pythagorean formula. This formula has never been refuted or been challenged, but remain as a TRUTH. The famous formula is, "VIXX = Concept".
Those in hands of disagreement? No One. 
VIXX is one of the most distinctive idol groups who has their own color. When I say, "own color" I do not mean that they have had the same style for 5 years since debut. Their color is to CHANGE COLOR in every comeback. It's already been 5 years since they have debuted, but not once did we get sick of their music. WHY? Because all were so different and diverse!
To study to past histories of the group, we shall use the TIME LINE method to go through the past 5 years.
Time of Dark & Sexy Vampire
Through the performance 'On and On', they have gained the title "Conceptual Idol".
Time of  The Irresistible Lunatic, Hyde
They came back with 'Hyde' with crazy lunatic concept which was never tried by any other groups before. They were crazy hot.
Time of  The Charismatic Bizarre, Voodoo Doll
Their official album "VOODOO" made such a big hit, where they pulled up their reputations as a conceptual idol as they were able to kiss-ass in the weirdest concept.
Time of The Distinctive Cyborg
Their 2nd mini album"ERROR" was not an error of their reputation, but a new leap. They were able to try something that was not even thought of as a concept for idol.
Time of The Slave of Love
They were all "Chained Up" with obsessive love that was out of hand. They expressed men, helplessly enslaved by love with their own dark sexiness.
Time of The Greek gods
Through VIXX Trilogy, they transformed into Zelos to Hades and to Kratos, showing charismatic charms of the three gods. 
Time of The Median Korean Beauty 
After a couple of concepts based on "Dark Sexiness", in "Shangri-La" they were able to pull off Median Asian looks, which made a huge hit globally. Critics, even from the foreign countries complemented VIXX for trying such unusual, yet meaningful concept. 
Must Read : Made In Korea: VIXX's 5th Anniversary Art Exhibit "VIXX 0524"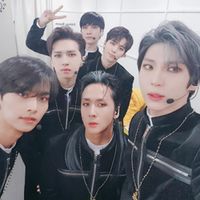 Became a fan of VIXX
You can now view more their stories