It's always interesting to find out within the K-Pop scene on things that could have been. Stories of idols who were once affiliated with an agency as a lineup member of current successful groups.
JYP Entertainment had several female idols who were once under their wings. But fate seemed to have a different plan for these idols as they've debuted in different groups outside of JYP.
HyoRin, JiEun, Hani (EXID), and YuJi (Bestie) were once part of a lineup of a JYP Entertainment girl group that was about to debut right before Miss A.
It turns out that EXID memebr Hani was a bit hesitant during those days and wasn't sure if being a K-Pop idol was the right path for her. After that, she left to China to study overseas.
At that point, the debut of the girl group was out of the question and many other agencies began contacting the remaining members, leading to them leaving JYP Entertainment.
Netizens have talked about how the four of them should have debuted together as all of them have power vocal skills along with charismatic stage presences.
What do you think, should the four of them have debuted together?
Read More : The K-Pop Idol Girl Group That Bought Fans All 3 Meals During ISAC 2018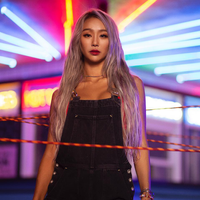 Became a fan of HyoLyn
You can now view more their stories