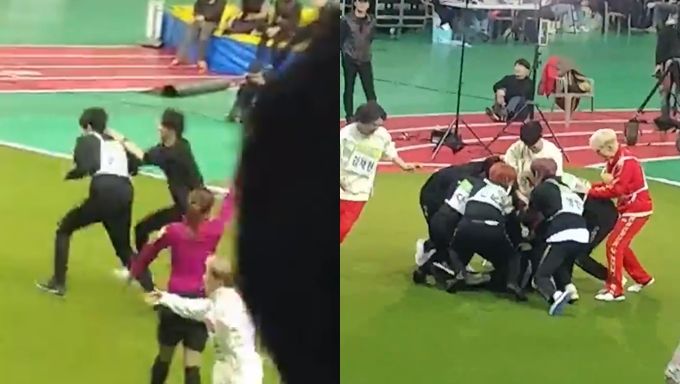 On Dec. 16, a lot of idols are attending the recording of the "Idol Star Athletics Championships (ISAC) 2020" Seollal. If you have yet to check the lineup, you can here.
Many fans are also attending the event and share online what is going on at the gymnasium. Not long ago, a cute and hilarious video of an idol trying to run away from his members and label mates was posted. He is none other than SF9's RoWoon!
For the penalty kick, SF9's RoWoon, InSeong & YoungBin were competing and won against the other teams. It was RoWoon who kicked the winning goal for the gold medal.
SF9 members and FNC label mates from N.Flying ran fast toward RoWoon to celebrate the victory. They were so quick that RoWoon was surprised and started to run away from this excited bunch of people. But he was too late and sat on the ground in the middle of the celebration.
The video is adorable. Have a look for yourself.
한화 아니 SF9 우승!!!!! pic.twitter.com/sKuapgi7Fu

— 제띠 (@ReUxtbYfchQ49) December 16, 2019
A bit later, N.Flying's JaeHyun was giving a piggyback to RoWoon.
https://twitter.com/bornthisway_rw/status/1206478581347414016
https://twitter.com/CUTE_KIMJAEHYUN/status/1206486493805473792
FNC family looks close and fans love to see this.
Who would not get surprised by this amount of people running to you at once?!
Congratulations on the gold medal.