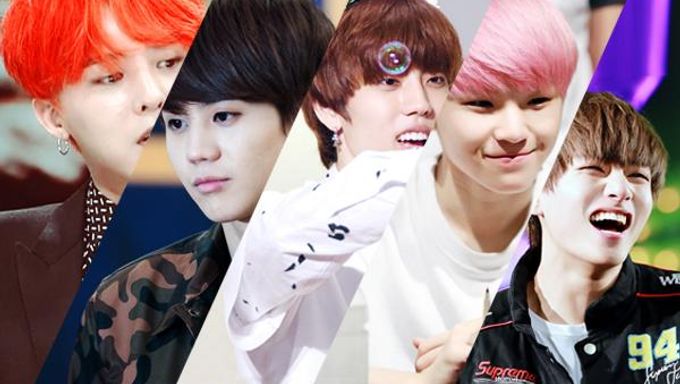 Kpop Map has now returned with an extension of this article, this time focusing in the world of male idols. "Ghost-Dreaming" was revealed that were a lot of requests for a remake from fans. "I had a dream. I dream about a ghost (literally hangul : 나 꿈꿨어 귀신 꿈꿨어), " this phrase started aegyo trend amongst K-Pop idols. It is based on a babyish voice version of someone; translated to"I hadda dweem. A dweem aboutta ghost (literally hangul : 나 꿍꼬또 기싱 꿍꼬또)."  
Male Idol Introverts Who Shake Their Shyness▼
Idols are often asked to show aegyo as a type of "fanservice"and it's often a great way to gain affectionate responses from their fans. Sometimes male idols also capture our hearts through their innocent-like charm. 
Aegyo, as you know, is simply a Korean word that represents a cute and  innocent. Aegyos of idol groups reveal different sides of appeal. It is considered as essential and as a way to lure fans. Although it may not be for everybody, you can't deny that some of these boys are the cutest! 
Here are some male idol stars who made it to the list in our aegyo edition of Ghost-Dreaming! 
Most Aegyo-Filled Male Idol
 "Ghost-Dreaming" Edited  
BIG BANG ver.
 Leader GD seems to be ashamed of other members' cheeky behavior.
INFINITE Ver.
Making all the perfect poses and expressions, they are touching the hearts of your with their overflowing aegyo.
EXO Ver.
But the youngest member of the group felt ashamed of his bro's aegyo, so he pretended not to know them.
BTS Ver.
 Sometimes it's being asked to do it as a mission.
 TeenTop Ver.
He gathered momentum with his cute little appearance.
BEAST Yoseob Ver.
Yoseob replied in a coy, babyrish voice which was quite in harmony with his looks. 
2PM Junk Ver.
 The members were outraged to find that Jun.k acted charming with a straight face.
SEVENTEEN Woozi Ver.
Its whole atmosphere may be freezing as Woozi's aegyo. 
Boyfriend Minwoo Ver.
 Doing well on himself..
 Park Yoo Chun Ver.
 Yoochun attempts to say this cute phrase first and impresses with his aegyo.
BTOB Ver.
 It's nutty but in a fun way!
Usually aegyo is commonly attributed with men and with this they have charmed the hearts of numerous girls. Some of these stars are having fun with giving the camera a bit of aegyo while at work. It feels like aegyo comes to them naturally or unnaturally 😆