While most of us are busy trying to upgrade our phones to the latest models or closest to it, let's say for example an iPhone XS or a XR, there are others who are busy downgrading their phones on purpose. Such is the case with EXO member SeHun.
EXO-L recently noticed how the K-Pop idol's phone was different and was an older model of an iPhone, the iPhone 8.
Below is a photo of SeHun with his new phone, a black iPhone 8.
sehun bought new phone? !!? pic.twitter.com/rBcDd0Qjs2

— ⓢⓐⓨ ⓤⓜⓟⓐⓗ ⓤⓜⓟⓐⓗ (@md_OohSe) August 17, 2019
So the reason for the downgrade? It turns out that SeHun wanted a home button. If you've used an iPhone XS or a XR, you might have had some time adjusting to the "no home button" phone.
But for SeHun he couldn't be bothered getting used to the "no home button" and just altogether changed his phone back to the older models.
sehun: i already changed my phone~
op: oh, you changed it already?
sehun: yes, (i changed it to) iphone 8 ・̀◊ ・̀
op: ah~
sehun: i wanted to use the home button (⊼⌔⊼ )
op: ah, really~ pic.twitter.com/2NdlWxNiJF

— 내 마음을 훔친 범인은 바로 세훈 ?? (@milkteu) August 17, 2019
Read More : EXO Lay's Samsung Endorsement Deal Canceled Due To Differences Regarding 'One China Policy'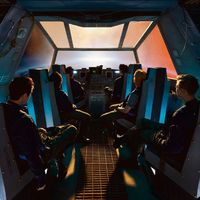 Became a fan of EXO
You can now view more their stories