From the very early years of western cartoons and comics, women characters are drawn with big hips narrowing down to thin legs.
This type of body feature has been thought to be the "Sexy Icon" of women and is until now thought as the ideal body shape. (It's named IDEAL since it's hard to be that way)
Recently, in K-Pop scene, a LIVE HUMAN BEING seemed to perfectly demonstrate such body. Can you guess who it is?
It's HwaSa of Mamamoo!
She is called "Beyonce' of Korea, not only because she is such a powerful vocalist, but because of her sexy body line, resembling that of Beyonce.
So, do you agree that HwaSa is the Korean Beyonce? 
Must Read : 10 K-Pop Idol Ladies with the Sexiest Hips and Legs for Jeans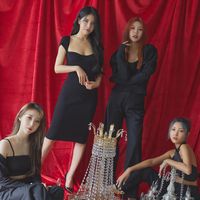 Became a fan of MAMAMOO
You can now view more their stories