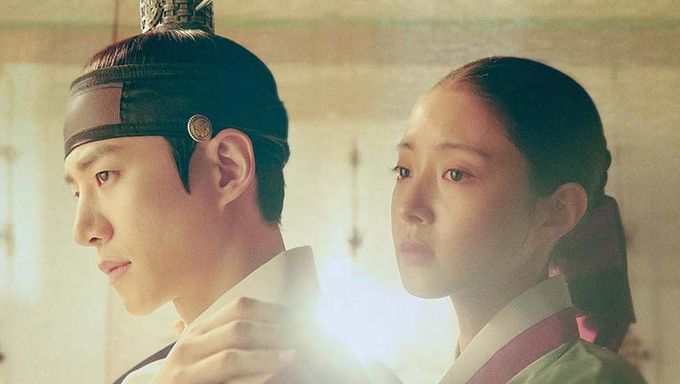 "The Red Sleeve" is a historical romance drama about a determined court lady who wants to choose her own path in life and a king who puts his country first.
It is based on the novel of the same name by Kang MiKang.
The leads in the drama are 2PM's JunHo, Lee SeYoung, and Kang Hoon.
Multi-talented 2PM member, JunHo, has appeared in the dramas "Confession", "Wok Of Love", "Just Between Lovers", and "Memory."
Actress Lee SeYoung started out as a child actress and has recently starred in the dramas "Kairos", "How Are You Bread", "Memorist", "Doctor John", and "The Crowned Clown". 
Kang Hoon has appeared in the dramas "​You Are My Spring", "Welcome", "Rookie Historian Goo Hae Ryung", and "Let Me Introduce Her."
Veteran actor Lee DeokHwa ("The Good Witch", "Judge vs. Judge", "The Best Hit"), veteran actress Park JiYoung ("Lost", "When I Was The Most Beautiful", "VIP", Doctor Detective", "Wok Of Love") and actress Jang HeeJin ("Flower Of Evil", "Babel", "Drama Special: The Long Farewell") will also be starring in this drama. 
Here is more information. 
The Red Sleeve (2021)
Information 
Title: The Red Sleeve / The Red Sleeve Cuff / Ossomae Bulkeun Kkeutdong / 옷소매 붉은 끝동
Director: Jung JiIn, Song YeonHwa
Writer: Jeong HaeRi
Network: MBC
Runtime: From November 5
# of Episodes: 15
Genre: Historical
Language: Korean
Summary 
A record of a mournful court romance between a court lady who wanted to protect the life she had chosen and a king who put the country ahead of love.
Cast 
2PM's Lee JunHo as LeeSan 
The next monarch who was born as a descendant of the red line, and sits on the throne of the Crown Prince. He is strict with others but more than being strict with others, he is terribly thorough in managing himself. He pushes himself to be terrifying and strives to become the ideal 'heir' that his grandfather, YeongJo, wants. 
He doesn't want to die as miserable as his father and strives to prove to the world he is a saint. In other words, he is always secretly afraid. But he can't tell anyone in the world that he's terrified... He wears the image of a 'perfect grandson' as armor. He thought he could always maintain perfection. Until one summer, he meets a fierce court lady, DeokIm.
Lee SeYoung as Seong DeokIm
She is filled with curiosity and innocent excitement. She can be mischievous but has a serious life goal. She plans to earn enough money to clear her older brother's name. Her only dream is to meet her older brother again, who had to leave Hanseong as the son of a traitor. She earns money by reading books and working as a scribe. 
She shows off her outstanding talent and boasts great popularity among court ladies as a reader and, her handwriting is also the best of the court ladies. Even royal women ask for books transcribed by her first. One day an arrogant young man appears in front of her and her simple life begins to change.
Kang Hoon as Hong DeokRo 
Whenever court ladies read a love story, they picture DeokRo's handsome face. He is very affectionate to people, especially palace ladies, so not many people know about his cool inner side hidden behind his appearance like a spring breeze.
He does not believe in people's goodwill, unreasonable favors, and kindness. He believes that everything has a price. Not many people know that he had a very miserable childhood as he is the heir to the prestigious Pungsan Hong clan.
Lee DeokHwa as King YeongJo
A king with a very human side, who gets angry and even cries when something sad happens. With his genius political power, he overcame power struggles with the sectarians who were united in factions, took care of the state affairs, and stabilized the people's livelihoods.
Park JiYoung as Head Court Lady Jo
The supreme ruler of court ladies. In the Joseon Dynasty, as the head of the court ladies who took charge of the royal family and took charge of the property, she exerts great political power behind the scenes.
She is the object of envy and fear of the court ladies. She has strong compassion and absolute responsibility for the court ladies she leads and will do whatever it takes best anyone or anything that gets in her way. She has been noticed for her smart and witty virtues from childhood and takes on special tasks that other court ladies cannot do.
Jang HeeJin as Queen JungSoon
The descendant of King YeongJo. She is a calm and elegant woman, always with cool eyes and deep thoughts. She is intelligent and has determination.
Teaser & Posters
Here is one of the teasers.
Here are the official posters.
About the novel
"The Red Sleeve" (옷소매 붉은 끝동 in Korean) is a novel written by Kang MiKang. You can check out the novel (in Korean) here.