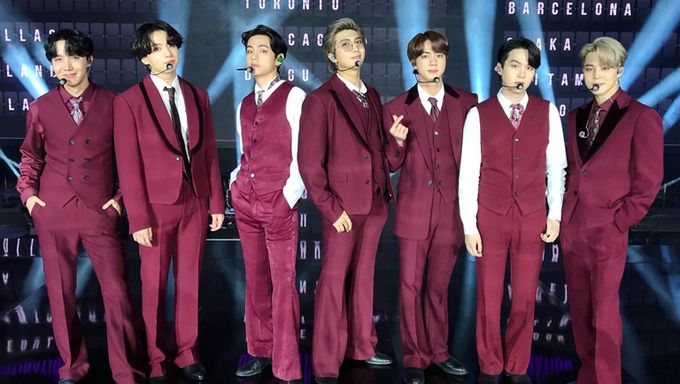 There seems to be no end of BTS' worldwide domination. Their new single 'Dynamite" currently holds the record for being the most viewed video within 24 hours of release.
BTS has a history of making and breaking records. In 2018, their studio album 'Love Yourself: Tear' made them the first Korean to top US charts. From there, the group has continued to win a number of both national and international accolades.
Despite this, the Bangtan Boys' biggest achievement is not the awards they've won but how they manage to continuously stay viral on social media.
The band continues to grow big and there's more to it than heavy promotion and advertisement. #BTSArmy is undoubtedly the biggest fan group in the world at this moment.
Western media has often described BTS as "modern‐day Beatles". However, this is a reductive definition of the band.
BTS as the Kings of K‑Pop
Unlike many popular acts in the US —BTS are not a bunch of high school or college buddies who were brought together by fate. In contrast, they all gave auditions for the Korean entertainment company BigHit Entertainment.
It took three years for the band to make its debut in 2013 as Bangtan Sonyeondan or Bulletproof Boy Scouts.
In 2014, BTS visited Los Angeles to take part in a Korean reality show named "American Hustle Life,". This gave them their first taste of the American hip‐hop culture. The group was solely focused on rap in the beginning but over a period time embraced pop and started to work on some upbeat tracks.
It was in 2015 that BTS got its big break. Their single "I NEED U" became a viral sensation, bringing in listeners from around the globe. "We didn't realize we were becoming famous until we were invited to KCONs (K‐pop music festivals) in the U.S. and Europe in 2014 or 2015," tells group member RM to Time.
This was the beginning. BTS members would then go on to become pop‐culture icons with some commentators even dubbing them as "Beatles of the 21st century". The band has reshaped fashion trends with millions of people aspiring to look like BTS. Thousands of fans imitate their dance moves on apps like TikTok every day.
So What Works for BTS?
BTS' longevity and dominance of the internet are unprecedented. In a world where trends come and go, where superstars lose fame as people move on to the next big thing —BTS has unlocked the formula to eternity virality. There is hardly a day when a group member is not visible on Twitter trends. "Much of this owed to the ARMY; a group of dedicated and internet‐savvy young fans" explains Alex Reynold of ClothingRIC, a website that promotes coupons on trendy outfits, like the ones worn by BTS. "The ARMY not only celebrates their musical heroes but it actively recruits others. It's not just the biggest but also the loudest and most effective fandom in the world." Reynolds explains.
So what exactly inspires such devotion and loyalty? Even though it's a combination of factors, three things in particular that have made BTS a success.
1. They Are Extremely Talented
One can go on about how much K‐Pop labels invest in promoting their idols. But none of that would have mattered if the artists lacked in talent. BTS has talent in tandems. The group performs otherworldly dance routines and choreography that's simply mesmerizing.
To perfect their every move, the band practices for hours. Sometimes these sessions can extend to 12 to 15 hours in a day. And it's not just slick moves that have earned BTS such success. The band's leader RM is considered one of South Korea's premier rappers while the lead vocalists JiMin  and JungKook have some serious range.
2. The Internet Culture Elevates Them
The Internet played a crucial role in getting BTS some international recognition. Fans across the world were first introduced to this band through YouTube. Beyond that, the way internet culture has evolved in the last few years and the "Stan culture" in particular has worked to their favor.
Sweet Bangtan dreams 💜
Suffer with me before bedtime 😇

Even the wind is a
Jimin stan.#JIMINOurs_mochi#BTS @BTS_twt

— 🐋🌸 ᴮᴱCaughtInALie⁷ 🌸🐋 (@caughtinalie_5) September 10, 2020
Stans are crazed and obsessed fans who don't miss an opportunity to promote their favorite idols. Unlike average fans, they actively try to get others to follow their beloved stars.
In many ways, stans are "volunteer marketers" who promote a celebrity and expect absolutely nothing in return. BTS has these volunteers in large numbers.
3. They Have a Connection With Fans
To an outsider, BTS might seem like a group of young heartthrobs who only make music about teenage love. However, there is much more to the band's artistry. Their music focuses on everything from mental health and individualism to teen angst.
One consistent theme in BTS' music is "self‐love". The band has even partnered with UNICEF to promote this message. Bang Siㅗyuk, the founder of BigHit Entertainment founded BTS with a vision of "a hero who can lend them (fans) a shoulder to lean on, even without speaking a single word".
Naturally, this sort of messaging resonates with the fandom. Fans who are in their teens and might be facing challenges of life look towards these idols as a source of inspiration.
Conclusion
Bangtan Boys are an inspiring success story. Although marketing enthusiasts like me would love to attribute all their success to South Korea's corporate machinery —such an assertion is somewhat reductive.
Effective marketing has without a doubt played a role. But it's the combination of extraordinary talent, effective messaging, and modern online culture that has made BTS the symbols of pop music in 2020.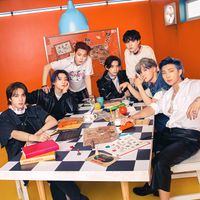 Became a fan of BTS
You can now view more their stories