A lot of Korean men enjoy billiards, and they do a lot of betting when they play.
If men want something of their friends' or in choosing who's picking the tab for the day, they play billiard.
Kang SeungYoon of WINNER participated in a pilot program "Oppa Saenggak (Thinking of Oppa)" and in the show, he played billiard with one of the Korean comedian, Tak JaeHoon and betted on selling his bike if he lose.  
While playing the game, some sexiest moments were caught on camera.
They say, men are hot when they concentrate on something deeply. This statement will be undeniable after you've seen these moments of SeungYoon on the game.
Imagine having a boyfriend teaching you billiards, and he looks like that…I would have a heart attack.
Must Read : Kang SeungYoon of WINNER Taking the Place of KyuHyun in "Radio Star"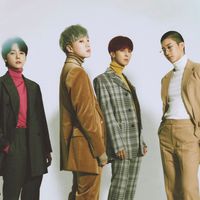 Became a fan of WINNER
You can now view more their stories