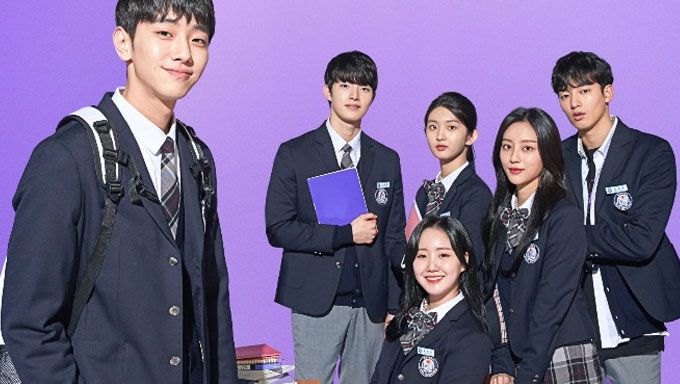 "The Temperature Of Language: Our Nineteen" is a teen growth romance web drama.
The cast is composed of rookie actors and models. A majority of them previously acted in web dramas.
The drama airs on V-Live and YouTube on Thursday-Saturday 6 PM KST. Check the links at the end of the articles.
Here is more information.
The Temperature Of Language: Our Nineteen (2020)
Information
Title: The Temperature Of Language: Our Nineteen/Temperature Of Language: Age 19/Eoneoui ondo : uriui yeorahop/언어의 온도 : 우리의 열아홉
Director: Kim KiYoon, Ko JaeHong
Writer: Lee DongHee, Ko JaeHong
Network: tvN D on V-Live and YouTube
Runtime: From Feb. 13
# of Episodes: 16
Language: Korean
Summary
It is the true story of South Korean high school seniors that the adults don't know about. It is the real-life of them.
Cast
Jin JiHee as Woo JinAh
She is an average high school senior. She has always lived like others. However, she realized that she was wrong. She started to have unspeakable worries and to be able to talk about it she started to write on social media.
Kang MinAh as Han YuRi 
She is a popular girl in high school. Everyone is envious of her. Everyone knows her and she knows everyone. She looks perfect but actually she has a secret that should never be found by others.
Nam YoonSoo as Lee ChanSol
He is a class leader with a lot of energy and brightness. He had to go through the pain of giving up his dream to become a soccer player due to injury. But he still likes to exercise and is a positive person. Strangely, he started to get strange emotions that he doesn't know about and things get complex in his head.
Park SeHyun as Seo EunBin
In all her life, she always got number 1. She never tolerates anything interfering with her study. She believes studying in the only way to escape from the hellish reality.
Yoo JungWoo as Kim DoYoon
He is the perfect student. He has good scores and is always kind and friendly. But in fact, he does not want to study, He has another dream. He is in the critical situation of throwing away school, love, and friendship.
Joo EoJin as Shin KangWook
A mysterious transfer student. He goes "my way". He does not care about what others think or do. However, he keeps being interested in Han YuRi.
Interesting Facts
Here is one of the teasers.
Here are the official posters.
Links
Where to watch?
tvN D V-Live, tvN D STORY YouTube
Read More : "Ending Again" (2020 Web Drama): Cast & Summary