YG Entertainment girl group BLACKPINK has had an extremely important year in 2020, as many important things have been happening for them, including the release of their very first ever studio album, 'THE ALBUM'.
As many BLINKs would obviously know, the girl group members are basically all sisters, as all four of them are inseparable and are extremely close with each other.
But really, telepathy?
BLACKPINK in the past appeared on an episode of 'Prison Interview', playing various different games.
So during one point, the group had a mission, where they all had to dance the same choreography from 'Lovesick Girls', guessing which particular dance move was every members' favorite. Of course, this also had to be done without telling or discussing with each other. When the mission was given to them, all the members looked deeply into each others' eyes, adorably saying that they'd be able to know everyone's favorite dance part in 'Lovesick Girls'.
JiSoo stated:
"I'll send telepathy!"
The girls came up with another plan as well, to try and tell each other with their eyes.
So what ended up happening?
Did the girls all pick the same choreography that they thought all of them liked the best? Well...
They were close.
They give it another shot. They almost succeed in the mission, except Jennie adorably gets it wrong and insists that everyone's favorite move was the one that she's shown doing below.
You can check out the video below to see how they succeeded in the mission.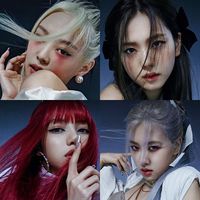 Became a fan of BLACKPINK
You can now view more their stories