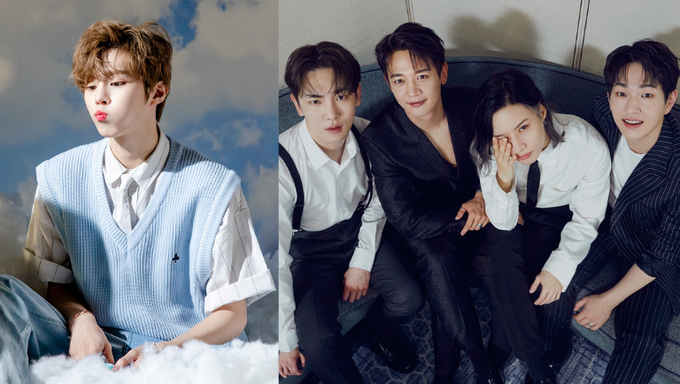 The best part about being a K-Pop fan is the constant release of new music the whole year-round. Every week there is a comeback and new music gets added to our playlists.
On Jul. 1, we asked Kpopmap readers to choose the hottest K-Pop song for the first half of 2021.
The lineup was based on songs that have won first place on music shows such as KBS's "Music Bank," MBC's "Music Core," SBS's "Inkigayo," and Mnet's "M Countdown," from January 2021 to June 2021.
Songs that won first place on the music shows, "The Show," "Simply K-Pop," and "Show Champion," were not included.
Many of you voted. Thank you for your votes! Here are the results based on data retrieved on Jul. 29, 2021.
With 8.559 votes, UP10TION's Kim WooSeok's 'Sugar,' won the vote for the hottest song of the first half of 2021. 'Sugar,' is the title track from his second EP "2ND DESIRE [TASTY]" which shows a sweeter side to him. He sings about young and innocent love through food metaphors.
2. 'Don't Call Me' by SHINee
With 7.031 votes, SHINee secured the second hottest song for the first half of 2021. The title track 'Don't Call Me,' is from their seventh album of the same name. This comeback was a big deal because it was the first time that the group was promoting after some members came back from doing their military service. The song is a hip-hop-based song about a man who feels hurt by the person he loved and no longer wants anything to do with them.
3. 'One' by ASTRO
With 1,547 votes, ASTRO came in at third place for the hottest K-Pop song in the first half of the year. Their song 'One,' is the title track of their second studio album "All Yours." They put a lot of effort into their first full-length album in a while and the song is for AROHA, asking them to stay with ASTRO forever.
4. 'Butter' by BTS
With 486 votes, BTS comes in at the fourth spot of this ranking. 'Butter,' is their second single sung in English after 'Dynamite.' More than having a deep concept, BTS simply wanted ARMY to know that they'll melt their hearts to be smooth like butter, through this song. It is an easy listening dance-pop love song.
With 371 votes (G)I-DLE takes the fifth spot for hottest K-Pop song in the first half of 2021. 'HWAA' is the title track from their fourth EP "I Burn." It is a break-up song that deals with the unclear emotions a woman feels after a break-up. It deals with the Korean concept of 'Hwa (화)' which can be translated into anger.
Find out all the rankings below.
If you also want to cast your vote, you can below as the vote is always open. However, this will be the only results article.
What do you think is the hottest K-Pop song for the first half of 2021?