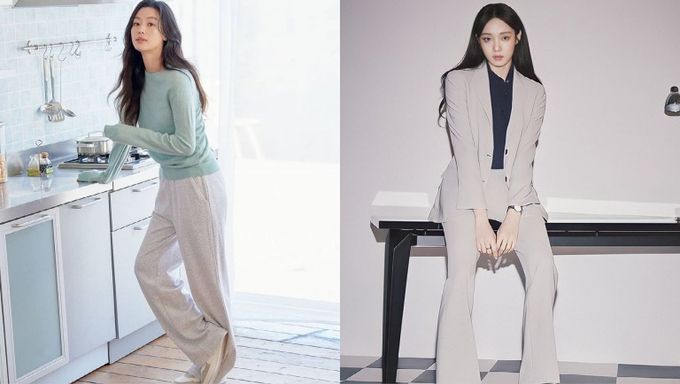 Tall women have an elegance and grace of their own that is truly unbeatable. They exude power and command unlike any other and we can't help but gush over them.  In South Korea, a woman over 170 cm is considered the standard for being tall. When these tall women are also our favourite K-Drama actresses, the swoon quotient just keeps going higher and higher. They're the very definition of "girl crush" or more simply, just plain old crushes that you know are so unattainable that you can only admire them from afar.
The confidence in their model-like strut, the way they carry themselves, the way they look amazing in whatever they wear and even better when they're wearing heels, it is hard not to have heart-eyes over these actresses. Action to romance, thrillers to comedies, they can do it all!
Here are 7 of the tallest Korean actresses that we cannot help but admire.
Actress Lee SungKyung has an incredibly impressive height of 175 cm or 5 feet and 9 inches. However, it is not surprising, especially considering that she began her career as a model and walked some extremely prestigious runways before becoming an actress.
Actress Lee DaHee is known for playing strong, independent and bold women and her height adds to the edge of her characters. She looks supremely elegant regardless of the role she takes up and we can't take our eyes off of her. She is also 175 cm tall, which is 5'9.
3. Choi JiWoo - 174 cm
One of the finest actresses in the entire South Korean entertainment industry, who was singlehandedly responsible for the proliferation of the Hallyu wave, Choi JiWoo stands tall at 174 cm. She's the walking definition of grace and gorgeousness.
Actress Jun JiHyun is the highest paid and the most sought-after actress in the Korean film and television industry. She's finally going to be making her small screen comeback with "Kingdom: Ashin of the North" and later, "Mount Jiri" and we couldn't be more excited. When it comes to her height, she is 173 cm tall and is therefore always in demand for luxury brand endorsements because of her statuesque physique.
5. Han HyoJoo - 172 cm
Han HyoJoo is known for her flawless visuals and beautiful figure. She is 172 cm tall, every bit of which is sheer perfection. She carries herself so elegantly that she is quite the role model to many young kids worldwide.
Gong HyoJin has a varied range of some incredible characters and genres under her belt, so much so that she's hailed as one of the best actresses of this generation. She is 172 cm tall and considers her height an asset (as she should). We love her confidence!
This idol turned actor has often been a hot topic of discussion whenever it comes to female artists and their height, or more specifically, their proportions. SooYoung indeed has an enviable body proportion that is truly unreal and extraordinary. At 172 cm tall, her leg to body ratio is quite literally, golden.