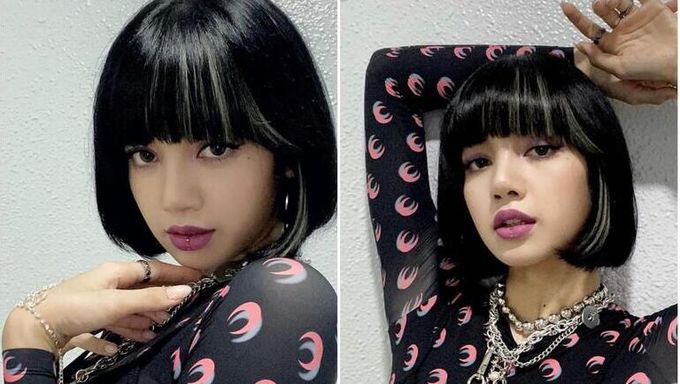 Marine Serre, a French fashion designer who won the 2017 LVMH Prize for Young Fashion Designers, and her fashion items have been one of the most popular among K-Pop idols.
You've probably seen countless idols rep Marine Serre, and the brand really has become somewhat of a uniform for K-Pop idols almost.
The instantly recognizable designs and the iconic moon logo is what makes the brand character and image highly familiar among everyone.
So it seems that fans either really love seeing this brand on K-Pop idols, or really hate it, as there are generally two extreme opinions.
Fans who love seeing the crescent moon obviously like the design and think that the brand is perfect for idols to flex their taste in fashion, while fans who dislike the brand have been saying that there are too many idols who wear it now and that the uniqueness has somewhat died down.
You can check out some of the most popular idols repping Marine Serre below.
When it comes to fashion or fashion, BLACKPINK is perhaps the most influential girl group ever at the moment. So it's not surprising that the girl group members Jennie, Rose, Lisa, and JiSoo have been seen in the highly popular brand as well.
HyunA & DAWN
The fashion-forward couple have been seen wearing matching outfits in Marine Serre on many occasions, including tights that they recently wore together.
Below are several more top idols who have been seen in Marine Serre attire.
ChanYeol (EXO)
BaekHyun (EXO)
Sandara Park
TaeYeon (Girls' Generation)
ChungHa
RyuJin (ITZY)
Son NaEun (Apink)
Wendy (Red Velvet)
Joy (Red Velvet)
XiuMin (EXO)
While there are many fans who have stated that the brand is definitely a hit for them, the ones who have been saying it was a miss for them have been saying that the moon logo printed all over the attire is too difficult to look at.
Netizens of a popular online community have been talking particularly about the all over print of the crescent moon.
"Pretty."
"It kind of gives off a Sailor Moon villain vibe."
"I really can't stand seeing the ones with the logos all over it."
"The ones with the logos all over are not my taste...the simple ones, like the on Sandara Park was wearing is alright."
So with so many fans divided, either really having a liking towards the logo designs, or being put off by them, which side are you on?