Yoo SeungHo is one to the young actors who's got a real talent in acting. Some of the actors in their 20s have acting capability controversies, however, to SeungHo, those controversies weren't just in his dictionary. 
Another thing we love about Yoo SeungHo other than his melting smile, fit body, a soft yet firm voice is that he's got a sound mind and is a man who knows how to put his thoughtfulness into action.  
He is famous for saying the right things at the right time and doing the right things at the right time. Most of the celebrities push their days to serve the army as far as they can because they want to work and enjoy their fame. However, SeungHo is one famous celeb who went to serve the army when he was at the peak of his fame, yet a perfect age to serve in the army.
Again, he showed his thoughtful mind and action by his post on his fan cafe. The post was real thoughtful, but then it was real adorable as well. 
I have arrived today in the early morning and I am writing now. I had a good trip to India and Sri Lanka. I was emotionally depressed through out the whole trip and I felt uncomfortable seeing the sick children. I cannot put the emotions I had there into words but the trip was invaluable to me.

Our team took care of the sick children and help built a school. While we were building school, I was happy to see the village people happy, but it made me look back on myself by looking at people who can have their happiness over small things. They smiled at me and that felt just great.

I found one similarity among the children. They were all bright and they all wanted to study. I wasn't worthy enough to give them my condolesence because they were betther than who I was. I hated going to school and study. I fought with my parents over it a lot.

All that the children wanted was just to be smart. Nothing more. I was so angry at myself. I hope the trip to Sri Lanka has brought me change and make me put more effort in things I do.

Sorry that I am not a good writer in expressing things, but these were truly what I felt. I hope after what we filmed is aired, you would be motivated by it too.

That's all for now, because I have to go eat noodle with my mom...
I mean, that was just one touching post! But... is it only me who thinks he had to go for noodle time with mom was hilarious after such a serious words and commitment?  
Must Read : A Shift In Generation Of K-Drama By All-Grown-Up Child Actors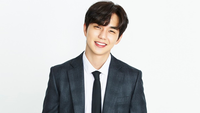 Became a fan of Yoo SeungHo
You can now view more their stories