How does it feel making out with someone in front of your own sister? Well, Thunder tells us how...
Just this afternoon, Thunder (CheonDung) held his showcase for the upcoming release of his solo album, "THUNDER". While he was calm, collected and confident about his new music, he was far from that while filming a certain risque part of his new music video.
Must Read : Teaser )) Thunder (CheonDung) Solo Album Comeback
The title track, 'Sign', is accompanied by a music video that's full of sexy masculine vibes. One part in particular features the idol getting up close and personal with his leading lady - to the point where they pretend to match lips together for an intimate time. During the filming, his older sister Dara was there as a special guest... and she saw the whole thing!
Thunder spoke up about the filming day saying, "I was so worried about how I will be able to have skinship in front of my family, and I just remember shaking a lot in front of Dara."
The idol I'm sure it was as awkward for Dara as it was for you, Thunder! Thunder fans will be able to see the scene for themselves when the album and music video drops on December 7th at midnight.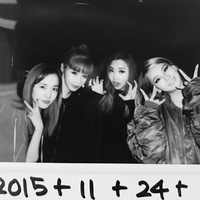 Became a fan of 2NE1
You can now view more their stories