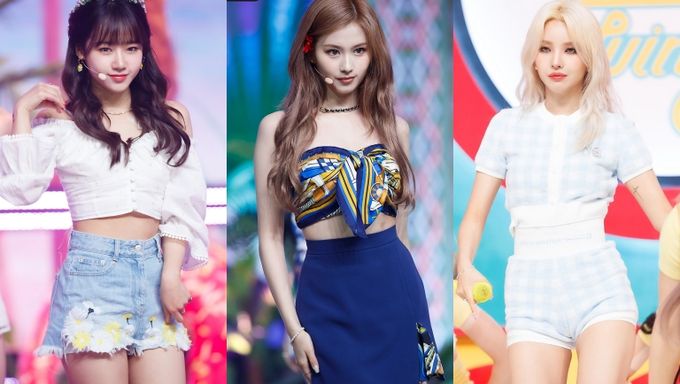 Autumn is finally upon Korea, which means that it is time for a change in the concepts we see for many K-Pop groups. Summer in K-Pop is always fun with exciting comebacks to get us in the party and vacation mood. We also usually get to see some of the most fun summer fashion!
To say goodbye to summer 2021, we have decided to take a look at the most colorful and fashionable fun summer fashion moments in K-Pop this season. Common fashion trends included lace, embroidery, fringe and tassels, silk scarves, and crochet clothing. 
Here are the best K-Pop girl group summer outfits seen on music show stages (not in music videos or others). 
Disclaimer: Only outfits with the vibe of summer were included. This is not a ranking. It is organized into sub-categories.
Beach Resort Chic
Weki Meki is ready for a beach party with their white and denim outfits! Their outfits give off boho-chic vibes with the use of lace, fringe, tassels and crocheting. These are the perfect outfits to run around under the sun!
Watch the stage here.  
2. TWICE - 'Alcohol-Free'
TWICE was all about resort chic. These outfits make us want to hop on a plane to a white-sand resort so that we can rock these beachy looks! We especially love how they played with designer silk scarves to complete their respective looks. Who knew they were the perfect summer accessory?
Watch the stage here.  
Fun And Flirty Summer Date Outfits
3. ITZY - 'LOCO'
ITZY really experimented with colors and texture combinations this summer! Their quirky outfits would be the perfect summer date outfit to wear and express your unique sense of fashion! 
Watch the stage here.  
Check patterns were all the rage this summer in K-Pop! TaeYeon rocked the pattern in a cute pink mini-skirt accented with beads. Her look combined with her hair color made her seem like a real-life Barbie doll! 
Watch the stage here.  
SoYeon looks fierce in this cute Alexander Wang playsuit. The softness of the material with the light blue check patterning contrasted against her chunky white boots makes this outfit playful but fierce at the same time. Let's not forget the lacy socks that complete the look!
Watch the stage here.  
Red Velvet rocked simple outfits with intricate details in their 'Pose' stage. They played with patterns and cuts to bring a flirty vibe to these cute looks. SeulGi's rainbow chain body suit especially screams summer vibes.
Watch the stage here.  
LIGHTSUM looked pretty in pink and white, giving doll-like vibes. Their soft look and playful outfits would be perfect for a casual date night in the summer.
Watch the stage here. 
Cocktail Party Chic
8. Lee Hi - 'Red Lipstick'
Lee Hi's two-piece is the perfect blingy outfit to wear to a cocktail party under the summer sky. The pop of green also adds a fun element to this look.
Watch the stage here.  
Brave Girls were dubbed the summer queens this K-Pop season. They rocked a number of looks including these dazzling cocktail dresses and two-pieces.
Watch the stage here.  
Kwon EunBi also rocked a number of outfits that would be gorgeous to wear on a summer night sipping your favorite drink.
Watch the stage here.  
11. OH MY GIRL - 'Dun Dun Dance'
One of the best things about Oh My Girl's outfits is how each one shows the individual style of the members. Their sequins and rhinestones add to the shine of each member through cute summer outfits.
Watch the stage here.  
If you are curious about the best summer stage outfits for boy groups this year, check them out here.
Which idols do you think had the best summer outfit?
※You can vote multiple times without sign in.
Girl's Generation's TaeYeon
Did we miss one of your favorite summer stage outfits?! Please share it with Kpopmap readers and us in the comments.