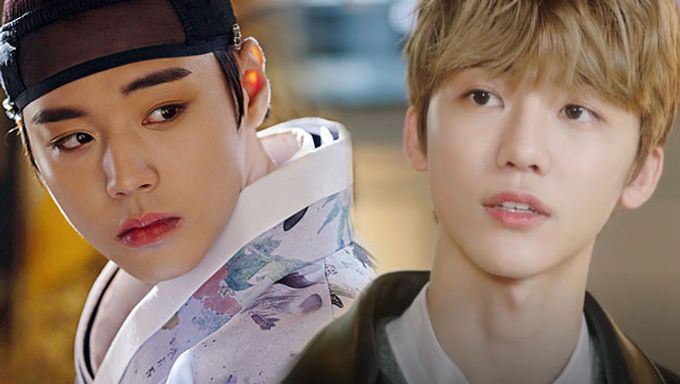 Among K-Pop idols, there are many who are talented in acting. Some are getting recognition for their good acting skills while some are yet underrated compared to their skills.
Kpopmap came up with 10 acting-dols that we think need to get more recognition for their acting skills.
Actors that are no longer active as an idol and/or are already recognized as actors are not included in the list such as INFINITE's L, ZE:A's Park HyungSik & Im SiWan, BTOB's Yook SungJae, SHINee's MinHo, 2PM's JunHo, HIGHLIGHT's Yoon DooJoon, EXO's D.O, B1A4's JinYoung, ASTRO's Cha EunWoo, FTISLAND's Lee HongGi and much more.
Here are 10 idols who are underrated as actors when they have good acting skills and the potential to rise to fame as an actor.
Let us know in the comment who do you think is underrated.
1- SF9's RoWoon
RoWoon was definitely underrated last year even if he impressed with his acting in "Where Stars Land". This year with "Extraordinary You", he is gaining such amount of fame that his "underrated" status might disappear with his next drama. Many have been praising RoWoon for his good acting which continually improved since his debut day. He needs more recognition.
2- ASTRO's MoonBin
ASTRO's Cha EunWoo is famous and he is known as an actor. In the team, it is MoonBin who is underrated. He was a child actor and in the recent youth drama "At Eighteen", he had a supporting role. Even though he did not have many lines, his potential in acting could be felt. His future in acting is worth looking forward to.
3- GOT7's JinYoung
It is surprising to see that not many know about JinYoung being a great actor. JinYoung's must noticeable projects are his small role in "Legend of the Blue Sea" and his main role in "He is Psychometric". In the latest, he showed diverse emotions from sadness to happiness and made viewers connect with his character.
4- NCT's JaeMin
JaeMin made his acting debut in the short web drama "Method To Hate You" (also known as "Way to Dislike You") and for a first lead role, it was good. JaeMin is still a rookie in acting and yet it was a good start. There is much potential for him to grow as an actor if he is given the opportunity.
5- VIXX's HongBin
HongBin has debuted as an idol long ago and has started to act in dramas since 2013. Among his projects, he was second lead in "Moorim School" and "Witch's Love", and support role in "The Smile Has Left Your Eyes". He showed that he is worthy to be the lead actor (not in a web drama) but he has yet to be cast. He is underrated.
6- Golden Child's BoMin
BoMin is one of the rising acting-dols. He stole the heart of viewers in web drama "A-Teen 2" and is currently stealing more with a supporting role in "Melting Me Softly". He has for sure talent in acting. He suits perfectly romantic comedy and his garnering fans little by little. BoMin needs a more important role in a TV drama.
7- Park JiHoon
Park JiHoon was a child actor and his recent role in the drama "Flower Crew: Joseon Marriage Agency" made him top rankings of most talked actors by Good Data Corporation. He was praised for his impressive acting and many are looking forward to his next project. Park JiHoon might be able to lose his 'underrated" status soon.
8- VICTON's SuBin
SuBin acted as a supporting role in the Playlist drama "The Guilty Secret". In the drama, he suited the character and acted naturally for his first drama. He will be acting in the drama "Psychopath Diary" as a supporting role and might show more of his acting skills.
9- EXO's ChanYeol
In EXO, there are many members who are acting. The most recognized for his acting in Korea is for sure D.O. However, ChanYeol has a lot of potential in acting too. In "Memories of the Alhambra", he impressed the viewers with his action scenes as well as his depiction of fear.
10- SF9's Chani
There are two talented underrated actors in SF9. The other member is none other than Chani. He was a child actor before becoming an idol and also pursues his acting activities after debuting ("Queen Seondeok", "The Innocent Man", "Signal", ...). He gained recognition for his acting in the drama "SKY Castle" and yet still is underrated.
Read More : Top 7 K-Drama Male Acting-Dols Of 2018