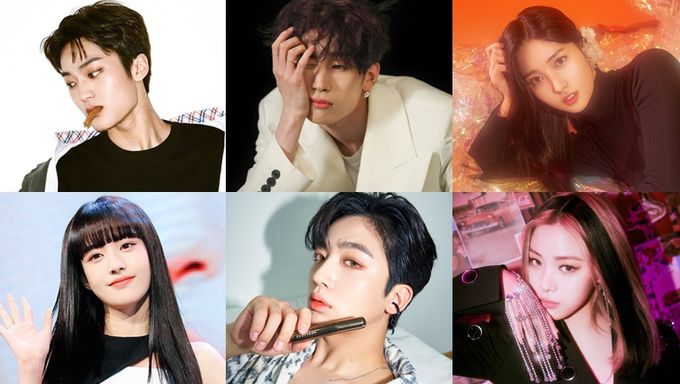 MBTI (Myers-Briggs Type Indicator) is a personality test indicating how someone perceives the world and makes decisions.
For the past year, many K-Pop idols took the test to learn what is their MBTI personality. Recently on Mnet "TMI News", the top 12 MBTI of K-Pop idols were shared and we thought it will be interesting to share them with you.
Let's find out which MBTI personality has the most number of K-Pop idols with it!
Data is retrieved on April 28 and descriptions are taken from 16personalities.
12. ISTP 
ONEUS's HwanWoong, LOONA's Olivia Hye, YuBin, and more are known as the 'Virtuoso' who is someone "tend to have an individualistic mindset, pursuing goals without needing much external connection."
11. INTJ
BIGBANG's G-Dragon, BoA, ITZY's RyuJin, and more are known as the 'Architect' who "love perfecting the details of life, applying creativity and rationality to everything they do."
10. ENTJ
Super Junior's SiWon, SHINee's Key, TVXQ's YunHo, and more are known as 'Commander' who "are decisive people who love momentum and accomplishment."
9. ENTP
THE BOYZ's JuYeon, EVERGLOW's SiHyeon, BTOB's Yook SungJae, and more are known as 'Debater' who "tend to be bold and creative, deconstructing and rebuilding ideas with great mental agility."
8. ESFP
NCT's JaeHyun, Rain, Ha SungWoon, and more are known as 'Entertainer' who "love vibrant experiences, engaging in life eagerly and taking pleasure in discovering the unknown."
7. ISFP
VICTON's ByungChan, ONEUS's LeeDo, TXT's SooBin, and more are 'Adventurer' who "tend to have open minds, approaching life, new experiences, and people with grounded warmth."
6. INFJ
VIXX's Leo, EXO's Kai, MAMAMOO's Solar, and more are 'Advocate' who "tend to approach life with deep thoughtfulness and imagination."
5. ESFJ
Super Junior's KyuHyun, Apink's ChoRong, Stray Kids' I.N, and more are 'Consul' who "are attentive and people-focused, and they enjoy taking part in their social community."
4. ISFJ
VICTON's SeungWoo, BTOB's MinHyuk, WEi's YoHan, and more are 'Defender' who "tend to be warm and unassuming in their own steady way."
3. ENFJ
CIX's BX, SF9's InSeong, STAYC's SiEun, and more are 'Protagonist' who are "warm, forthright types love helping others, and they tend to have strong ideas and values."
2. ENFP
TXT's YeonJun, STAYC's Yoon, CRAVITY's TaeYoung, and more are 'Campaigner' who "tend to embrace big ideas and actions that reflect their sense of hope and goodwill toward others."
1. INFP
WonHo, SF9's JaeYoon, ATEEZ's HongJoong, and more are 'Mediator' who are "quiet, open-minded, and imaginative, and they apply a caring and creative approach to everything they do."