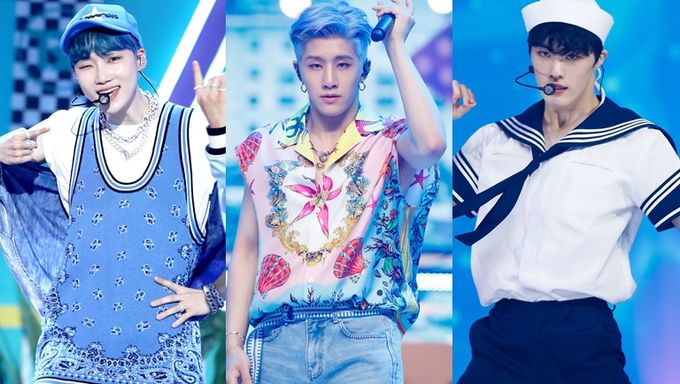 Fall has arrived in Korea. So it is time to say goodbye to summer 2021 and its gorgeous summer stage outfits.
This summer, we have been blessed with many beautiful and colorful music show stages with summery outfits. This year too, a lot of K-Pop boy groups prepared gorgeous outfits that screamed summer and holiday vibes. This season, we can tell that the pearl necklaces or bracelets were one of the hit items for male idols' outfits. 
To remember the best of this summer, we made a list of the best summer outfits seen on music shows (not in music videos or others). Check them out.
Disclaimer: Only outfits with clear summer vibes were included. This is not a ranking. It is organized into sub-categories.
Beach & Pool Party
1. WEi - 'BYE BYE BYE'
WEi members invited us to go with them to a tropical country for the holidays. Their outfits looked elegant with embroidery, patterned fabrics, and silk scarfs. It seemed perfect for a night party by the hotel pool. Yoo YongHa was utter perfection with this look. 
Watch the stage here.  
2. ASTRO - 'After Midnight'
ASTRO was all dressed for a summer party with their well-accessorized purple & blue outfits. The patterns of their stage outfits look luxurious and summery, especially MoonBin and JinJin with their sea-themed shirts. 
Watch the stage here.  
3. THE BOYZ - 'THRILL RIDE'
What are the perfect outfits for a pool party? Well, THE BOYZ had their own version of it: lifeguard outfits. They were all ready to dive into the pool to save you with these eye-catching red and white clothes. Each members' accessories are worth your attention. 
Watch the stage here.  
Summer Date Outfits
Ha SungWoon looked adorable with his summer outfits for 'Sneakers'. His rainbow hair, jeans, pearl necklaces, and pastel-colored T-shirts made him one of the best-dressed idols of this summer. 
Watch the stages here and here.  
6. Kim JaeHwan - 'The Blue Night of Jeju Island'
You might have already recognized this yellow and white embroidered shirt, as this shirt was already mentioned earlier. WEi's Kim YoHan also wore this shirt this summer. However, Kim JaeHwan's styling is very different with blue jeans and a white T-shirt for this special stage. That is quite the look we would like our boyfriend to have on a beach date. 
Watch the stage here.  
7. THE BOYZ - 'THRILL RIDE'
For this stage of 'THRILL RIDE', members had a lot of bright outfits with pearl accessories. Some members were sleeveless and some had shorts. The overall outfits might be too bright for a "date" outfit, but they will steal the hearts of everyone with this fashion. 
Watch the stage here.  
Stray Kids also had tidy and elegant but also totally cute summer outfits for the stage of 'The View'. These stage outfits are one of the best of this summer with scarfs and berets. ChangBin, Felix, SeungMin, and I.N brought their best boyfriend material look with their scarfs. 
Watch the stage here.  
'Casual' Summer Outfits
NCT DREAM brought us Bling Bling summery outfits. Neon colors and chains stood out along with Mark and HaeChan's palm trees shirt and JaeMin's palm tree pants. 
Watch the stage here.  
10. THE BOYZ - 'THRILL RIDE'
For this MBC stage of 'THRILL RIDE', members prepared more hip hop outfits with chains, hairbands, and eye-catching colors. The team outfits were -once again- one of the best summery stage outfits. Jacob had a palm tree shirt as well. 
Watch the stage here.  
11. CIX - 'Wave'
CIX went for an all-denim fashion and fans could only ask for more. SeungHun looked terrific in this crop top and YongHee looked adorable with the beret.
Watch the stage here.  
Navy & White
12. CIX - 'Wave'
CIX looked good in denim but also in their navy & white marines outfits. This concept suited 100% well with their title track 'Wave'. 
Watch the stage here.  
13. DRIPPIN - 'Free Pass'
The cute boys of DRIPPIN looked adorable in their marine outfits. Lee Hyeop's 'DRIPPIN MARINE' outfit was memorable with its shorts, scarf, and beret. This concept was one of their best. So make sure to check out their stage to enjoy the summer vibes even more. 
Watch the stage here.
14. ONF - 'Popping'
ONF also wore navy & white outfits for 'Popping'. The blue color and the short sleeves gave fresh and summery vibes to their outfits. HyoJin and E-Tion looked even cuter with the berets. 
Watch the stage here.  
15. THE BOYZ - 'THRILL RIDE'
It is THE BOYZ's 4th entry in this article. The stylists worked hard on this comeback with very different and gorgeous summer outfits for all the members and every music show stage. For this SBS stage of 'THRILL RIDE', all the members' outfits look amazing, especially New.
Watch the stage here.  
Did we miss one of your favorite summer stage outfits?! Please share it with Kpopmap readers and us in the comments.