With talks of possible I.O.I reunion and guest appearance on Produce 48 buzzing about, many fans are re-visiting some of their best stage performances.
After being formed by the finalists of Produce 101, the girl group eventually disbanded on January 31st, 2017. Their inevitable breakup was most unfortunate as the group seemed to be one that could have done so much more if they had been given more time.
Hopefully, we'll be able to see them again if their appearance on Produce 48 receives an official confirmation.
Here are our picks of their best stage performances.
#1 Bang Bang (Jessie J, Ariana Grande, Nicki Minaj) Cover Performance
The original three pop queens on the hit song 'Bang Bang' would have been proud of I.O.I for having done a superb job of covering them. The performance was for a position evaluation for each member that turned SoMi, ChungHa, YooJung, and DoYeon into hot topics for K-Pop talk amongst fans.
#2 Hip Song (Banana Girl) Re-interpretation
No one would have guessed that a modern K-Pop idol girl group was going to re-interpret an old techno trance club song about hips. What was amazing about I.O.I's version was that it kept the integrity of the original song while being presented in a way catered to the ears of today's music listeners.
#3 Whatta Man
Having sampled soul queen Linda Lyndell's song What A Man, we simply cannot leave the performance for Whatta Man out on this list. It's energetic, youthful, and fun. It's the type of stage performance that all K-Pop girl groups should have in their set list. And not to mention, Whatta Man is probably one of I.O.I's most well-known songs as well.
Read More : What The I.O.I Members Are Doing After Disbandment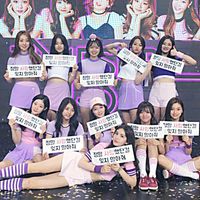 Became a fan of I.O.I
You can now view more their stories