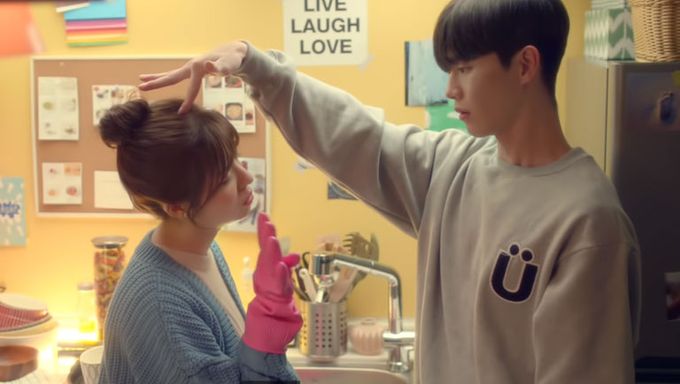 Have you been watching dramas these days? If not, you are missing many great scenes! If you like romance, this weekly Kpopmap series might be for you.
Be aware of major spoilers from episodes that aired this week. 
We made a selection of scenes from K-Dramas from this week that will make your heart flutter by their cuteness and romantic vibes and will make you want to fall in love. These scenes are the sweetest of this week. No more words, here is the list!
Let us know in the comment which scene you prefer and/or what is the sweetest scene of this week episodes according to you.
If you missed last's week choice, check it here.
1- "Itaewon Class"
Park SeoJoon and Kim DaMi as Park SaeRoi and Jo YiSeo
In "Itaewon Class", Park SeoJoon and Kim DaMi's love line starts to bloom little by little. Kim DaMi is entering his 'world' and knows his story.
The selected scene this week is an emotional one. Kim DaMi is so much in love with him that her empathy has doubled.
Both of them were out of Seoul for his personal affairs. In the dark room, lying down on the floor, Kim DaMi started to use his legs as her pillow. This is when she noticed all his large scars all over his body.
She asked what was these scars while lightly touching them. He explained that he got them at different times while doing labour work. Kim DaMi understanding his pains and struggles started to cry. Surprised by her tears, he started to comfort her.
You can watch the scene in the video below too.
Seo KangJoon and Park MinYoung as Im EunSeob and Mok HaeWon
"When the Weather is Fine" just started. The love story is soft and simple, warming the heart of viewers. Seo KangJoon loves Park MinYoung. He is cute and awkward when expressing his feelings -or pretending to have no feelings.
In the selected scene, Seo KangJoon decided to bring Park MinYoung home -when her house in a few meters from his bookshop. He ran to her with his flashlight saying that it was very dark. While lighting up only in front of her steps, they walked in the dark countryside.
While talking, he asked her about her henna tattoos and asked to see from close. While taking a closer look and glimpsing at her, he said: "pretty" with a smile.
3- "Ending Again"
Jo SooMin and Kim GunWon as Cha InYoung and Do YoonSoo
Jo SooMin and Kim GunWon are engaged in a contract marriage and are living in the same house. In the past, they both had a one-night stand and are in an ambiguous relation.
In the selected scene, Jo SooMin came back home drunk and brought ice tea for Kim GunWon. She gave him the drink while pinching his cheeks.
Then, she started to do the dishes because she promised she will do it and passed out in his arms.
If you missed last's week choice, check it here.
Stay tuned for next week's choice! It is every Friday on Kpopmap.
Read More : 5 Actors Who Are Huge Cat Lovers