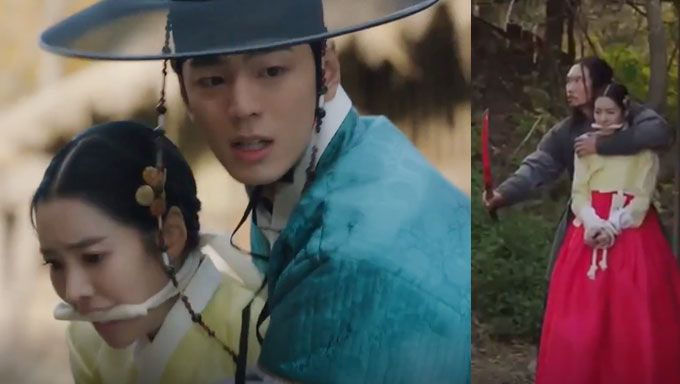 Have you been watching dramas these days? If not, you are missing many great scenes! If you like romance, this weekly Kpopmap series might be for you.
Be aware of major spoilers from episodes that aired this week. 
We made a selection of scenes from K-Dramas from this week that will make your heart flutter by their cuteness and romantic vibes and will make you want to fall in love. These scenes are the sweetest of this week. No more words, here is the list!
Let us know in the comment which scene you prefer and/or what is the sweetest scene of this week episodes according to you.
If you missed last's week choice, check it here.
1- "Love With Flaws"
Oh YeonSeo and Ahn JaeHyun as Joo SeoYeon and Lee KangWoo
The viewers of "Love With Flaws" have been eagerly waiting for the couple to start dating. After 26 episodes, Oh YeonSeo finally confessed her feelings.
The selected scene this week is the one where Oh YeonSeo said that she loved him. Standing in front of his house, she called him. However, the one that answered her call was not Ahn JaeHyun and he told her that there was an accident.
She was still under the shock when Ahn JaeHyun arrived in front of his house and said he lost his phone. She suddenly confessed her love and they kissed (for the first time in a while) under a romantic OST.
2- "Touch"
Kim BoRa and Lee TaeHwan as Han SooYeon and Kang DoJin
"Touch" just started and the Second Lead Syndrome can already be felt with the sweet and friendly Lee TaeHwan.
In the selected scene, Kim BoRa and Lee TaeHwan -who were close friends from the same agency- got to meet again. Kim BoRa cut all the contact with him and he was missing her. It is at the makeup shop that he saw Kim BoRa for the first time in a while.
At the sight of her, he felt so happy to see her again that he hugged her tight and said: "I missed you". He then started to ask her why she was not answering his calls.
3- "Selection: The War Between Women"
Jin SeYeon and Kim MinKyu as Kang EunBo and Lee Kyung
The drama "Selection: The War Between Women" started not long ago but viewers are already hooked onto the love story and the competitions between the candidates to be the next queen. Kim MinKyu cannot help but be obsessed by this candidate who looks exactly like the late to-be-crowned queen who he was deeply in love with.
In the selected scene, Kim MinKyu (the king) felt that the candidate he likes -Jin SeYeon- was in danger. He saw it in his dreams. Following his guts, he found out where she was and saved her handsomely from her kidnappers with these words: "Do not be scared and just look at me. It is OK. I will make sure to save you."
If you missed last's week choice, check it here.
Stay tuned for next week's choice! It is every Friday on Kpopmap.
Read More : 10 Most Talked About Actors & Dramas On January 2020