Top 3 Scenes That Make You Want To Fall In Love This Week
Have you been watching dramas these days? If not, you are missing many great scenes! If you like romance, this weekly Kpopmap series might be for you. Be aware of spoilers.
We made a selection of scenes from K-Dramas from this week that will make your heart flutter by their cuteness and romantic vibes and will make you want to fall in love. These scenes are the sweetest of this week. No more words, here is the list!
Let us know in the comment which scene you prefer and/or what is the sweetest scene of this week episodes according to you.
If you missed last's week choice, check it here.
1- "Hotel del Luna"
IU and Yeo JinGoo as Jang ManWol and Goo ChanSung
This week was the end of the hit drama "Hotel del Luna". Viewers had to say goodbye with laughs and tears to the sweet couple and the employees of the hotel.
In the selected scene, IU was teasing Yeo JinGoo. He wanted to get rid of a suitcase but she was sitting on it. When he asked her to move, she refused and said: "Lift me up and move me". At first, he pretended to not be interested and refused to lift her up.
She was pissed and disappointed as he was standing arms crossed. Suddenly, smiling he ran to her and carried her in a bridal manner. In a passion-filled embrace, he made a turn.
When she asked him to go to the room, he just put her down on the sofa.
2- "Rookie Historian Goo Hae Ryung"
Shin SeKyung and ASTRO's Cha EunWoo as Goo HaeRung and Prince Lee Rim
Cha EunWoo and Shin Sekyung are a lovey-dovey couple but they started to encounter serious obstacles this week: their relationship was a secret but they got caught by Shin SeKyung's colleagues, Cha EunWoo is forced to marry, etc. The story garners a lot of excitement.
In the selected scene, Shin SeKyung was coming back from meeting her colleagues who found out about her secret relationship with the prince. Cha EunWoo who was largely the origin of the leak explained that he simply hated the fact that on her side nobody knew about him.
She then sat down at her historian table. He blocked her from opening her book, softly touched her chin to lift her head and kissed her. After he jokingly commented: "Don't record this" with an attractive smile.
3- "At Eighteen"
Ong SeongWu and Kim HyangGi as Choi JoonWoo and Yoo SooBin
This week Ong SeongWu and Kim HyangGi couple is stuck because her mother is strictly against them dating. He promised to not date her even if both of them still have burning feelings for each other.
In the selected scene, Kim HyangGi finally found a way to spend time with him because it was his birthday. However, he refused to stay with her because of the promise he made.
Dragging her down the stairs, he explained that he was trying his best to hold it in. She insisted that she still wanted to be with him today. He refused at first but when she hugged him, he changed his mind while saying "sorry" and kissed her. They had their first kiss in the stairs in a romantic scene.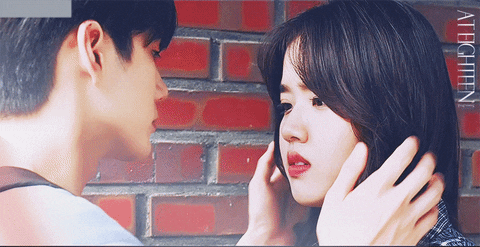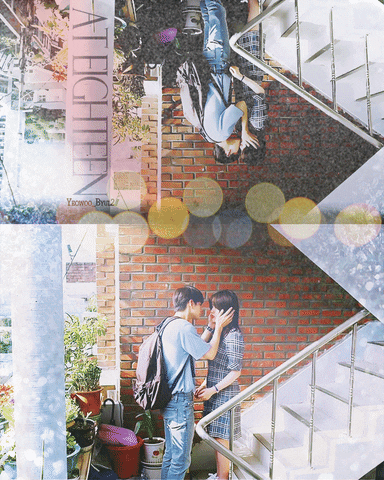 If you missed last's week choice, check it here.
Stay tuned for next week's choice! It is every Friday on Kpopmap. The weekly series will have a little break next week and start again on the 20th.
Read More : 6 Signs Of Cha EunWoo Being Crazy In Love With Shin SeKyung In "Rookie Historian Goo Hae Ryung"