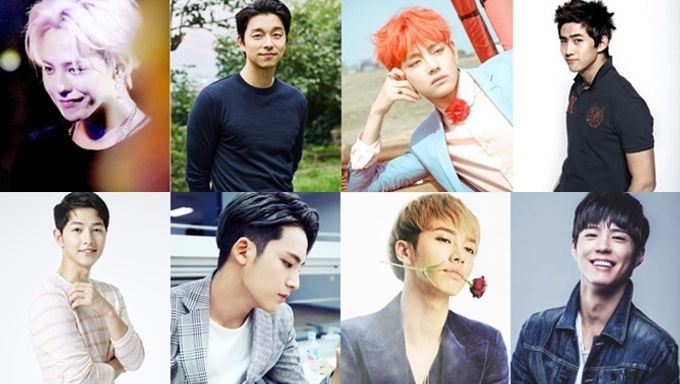 1,000 homosexual men voted for their ideal type celebrities, and here are the top 30!
We often talk about the ideal types male celebrities chosen by women, but what about the men? A netizen community conducted a poll asking 1,000 gay men to choose their ideal type celebrities. From actors to idols, from Hallyu to Hollywood, all celebrities were up for grabs.
Must Read : An Idol Boy brushes off Gay Rumor
And the survey says...
30th WooHyun of INFINITE
29th KiKwang of BEAST
28th JongHyun of SHINee
 27th Brent Corrigan
26th JungKook of BTS
25th G-Dragon of BIG BANG
24th Kim SooHyun
23rd MinGyu of SEVENTEEN
22nd MinHo of SHINee
21st Im SiWan of Z:EA
20th TaecYeon of 2PM
19th DuJun of BEAST
18th Lee JongSuk
17th Yook SungJae of BtoB
16th Jo InSung
Must Read : BTS And SEVENTEEN's Loveable Bromance Moments
15th Song JoongKi
14th Yoo SeungHo
13th T.O.P of BIG BANG
12th Ji JinHee
11th V of BTS
10th UKnow YunHo of TVXQ
9th D.O of EXO
8th Nam JuHyuk
7th L of INFINITE
6th Gong Yoo
5th Lee JaeHoon
4th Seo KangJun
3rd Sean O'pry
2nd Park BoGum
1st Ha JungWoo
Must Read : 10 Things Bromance Caught In K-Idol Photos