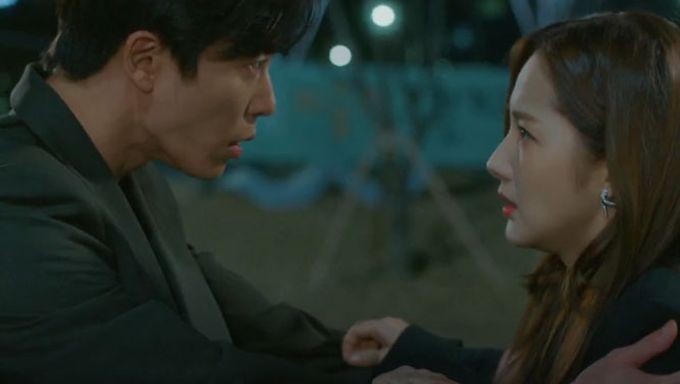 Have you been watching dramas these days? If not, you are missing many great scenes! If you like romance, this Kpopmap series might be for you. Be aware of spoilers.
We made a selection of scenes from K-Dramas from this week that will make your heart flutter by their cuteness and romantic vibes and will make you want to fall in love. These scenes are the sweetest of this week. No more words, here is the list!
Let us know in the comment which scene you prefer and/or what is the sweetest scene of this week episodes according to you.
If you missed last's week choice, check it here.
1- "He is Psychometric"
GOT7's JinYoung and Shin YeEun as Lee Ahn and Yoon JaeIn
Episode after episodes, the romance is flourishing and both characters' deep and sincere feelings for each other can be felt. This scene especially caught our attention!
JinYoung saved Shin YeEun from the psychopath, she was a few seconds away from her death. JinYoung was the one that found her thanks to his special skills. The most important part is that both of them had a fight and they were not talking to each other before this kidnapping happen. The two of them love each other but there are obstacles.
Shin YeEun is then hospitalized and JinYoung is next to her, they have an emotional reunion. More than words, the look in their eyes and the way they hold their hands make the viewers hold their breath. JinYoung says, "I was so afraid to never be able to grab your hand again that I thought I was going to die".
2- "Kill It"
Jang KiYong and NaNa as Kim SooHyun and Do HyunJin
Jang KiYong and NaNa's romance is not a thing but is still a thing. This sounds unclear to you? It can only be as both characters hint the viewers about their feelings for each other but nothing is concrete and nothing is certain. Yet, this week viewers got one more hint of Jang KiYong's feelings.
NaNa's cat seems to be sick and she rushes to Jang KiYong's veterinary clinic. After examination, he says that the cat is not sick but depressed because it receives the emotion of its owner -NaNa who is concerned and too busy-. As NaNa holds the cat and pets it, Jang KiYong can be seen smiling (a very rare occasion). Then, she asks "Are you happy?", he answers "For now yes" while looking at her in a heart-fluttering moment.
3- "Welcome to Waikiki 2"
Lee YiKyung and Ahn SoHee as Lee JoonKi and Kim JungEun
Lee YiKyung and Ahn SoHee are not dating, they are just close friends (?). Ahn SoHee is going on her first date with one man she wants to date. Lee YiKyung is going to work, he is a reporter for a show. He did not like the idea of her going but did not stop her. Arriving on the set, he learns that the man with who she left is actually a playboy that brings women to his house to have fun. Lee YiKyung then remembers that Ahn SoHee is going to his house. He leaves the set while running and panicking at the same time.
Ahn SoHee understands that the man does not have good intentions towards her and tries to exit the house. This is when Lee YiKyung appears in his car and separates them. As he hears derogatives words about Ahn SoHee, he punches the man in the face while saying "I have to punch you". The scene was cool and yet cute as his outfit was hilarious.
4- "Her Private Life"
Park MinYoung and Kim JaeWook as Sung DukMi and Ryan Gold
Park MinYoung and her new boss Kim JaeWook did not start their relationship peacefully but it seems that he begins to have feelings for her. Since the start of the rumors of her dating a popular idol, she has been attacked by various people. At the end of the day, Kim JaeWook offers to drop her home with his car but she declines his offer because she wants to walk home. As he leaves, Kim JaeWook witnesses something strange as it seems that someone is following her.
On his way home, he is anxious and turns his car around to meet the girl. He arrives right at the moment when she is going to be knocked down by a running car. After checking if she is safe, Kim JaeWook fiercely goes to the driver and screams "She is my girlfriend". The viewers could not help but find him fearless and yet surprised by his sudden words.
Stay tuned for next week's choice! It is every Friday on Kpopmap.
Read More : 4 Reasons To Watch Upcoming "Arthdal Chronicles" Drama With Song JoongKi