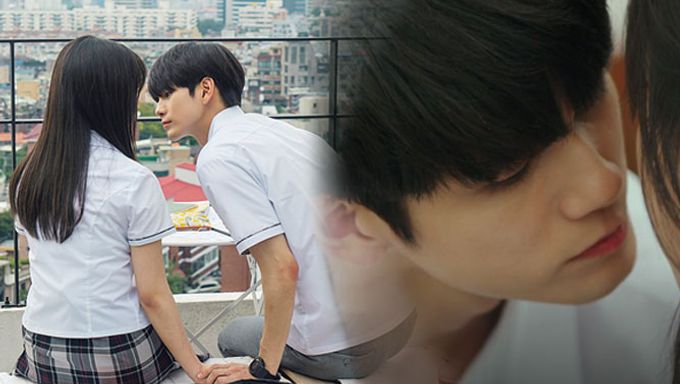 Have you been watching dramas these days? If not, you are missing many great scenes! If you like romance, this weekly Kpopmap series might be for you. Be aware of spoilers.
We made a selection of scenes from K-Dramas from this week that will make your heart flutter by their cuteness and romantic vibes and will make you want to fall in love. These scenes are the sweetest of this week. No more words, here is the list!
Let us know in the comment which scene you prefer and/or what is the sweetest scene of this week episodes according to you.
If you missed last's week choice, check it here.
1- "Hotel del Luna"
IU and Yeo JinGoo as Jang ManWol and Goo ChanSung
The lovely couple Yeo JinGoo and IU is breaking hearts this week with them being temporarily (?) apart. Despite the heavy atmosphere of this week, Yeo JinGoo still had some cute scenes where he showed his feelings for IU.
In the selected scene, IU was visiting Yeo JinGoo's office. She noticed that he had one of her belongings and asked him if he took anything else. Yeo JinGoo asked: "Look around if there is something else that belongs to you" and quickly draw on his palm her signature moon sign (E.g. meaning it is hers).
He proudly showed it to her and said: "It is here, Jang ManWol's stuff". She smiled brightly at his cute and cheesy move.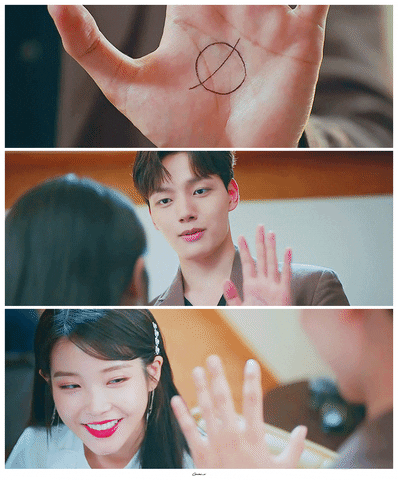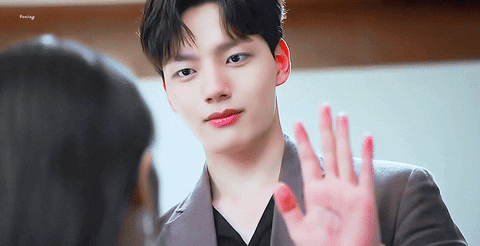 2- "Rookie Historian Goo Hae Ryung"
Shin SeKyung and ASTRO's Cha EunWoo as Goo HaeRung and Prince Lee Rim
Cha EunWoo and Shin SeKyung are the cutest couple. Last week the couple kissed and this week the prince is trying to control his emotions. He is completely crazy in love with her.
In the selected scene, it was the couple first encounter after they had their first kiss. Cha EunWoo was shy and tried to avoid her. Their sweet and hilarious interaction went the following way.
Shin SeKyung: What is the matter? Do I make you uncomfortable? Is it because of yesterday ...
Cha EunWoo: No, it's not that ... You see, I don't think I should be in the same room as you.
Shin SeKyung (laughing): Why not? Why can't we be in the same room together? Don't tell me you're afraid that I might bite you.
Cha EunWoo: What? How could you say such a thing? What a scary comment.
Shin SeKyung: You should get used to things like this.
She grabbed his wrist, pulled him, and kissed him. Then she smiled and climbed the stairs to the room.
Cha EunWoo following added: "I'll only get used to it if you do more of it".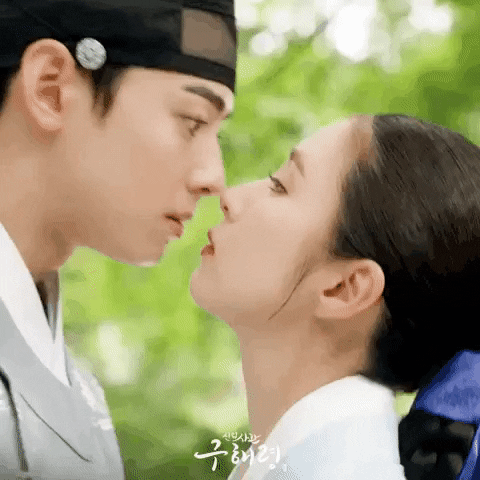 3- "At Eighteen"
Ong SeongWu and Kim HyangGi as Choi JoonWoo and Yoo SooBin
Things are getting serious for the innocent couple Ong SeongWu and Kim HyangGi. These two softies have a lot of sweet smiles and longing looks for each other. They are deeply in love.
The selected scene is their almost first kiss scene. Ong SeongWu and Kim HyangGi were talking on the roof of a cafe while looking at the beautiful view. He sweetly and softly touched her hand. Ong SeongWu then with affection was about to kiss her but got interrupted by a phone call.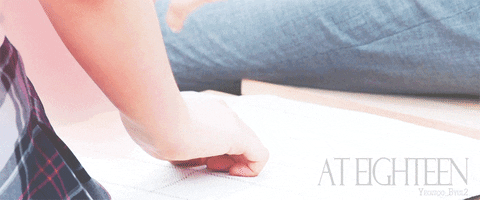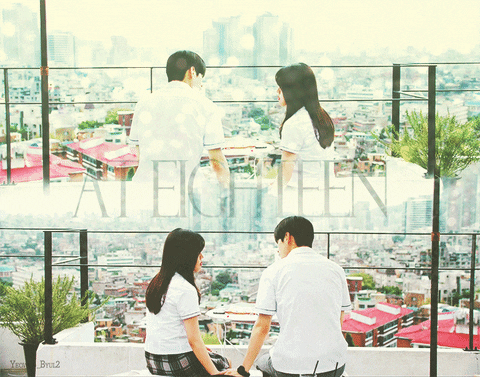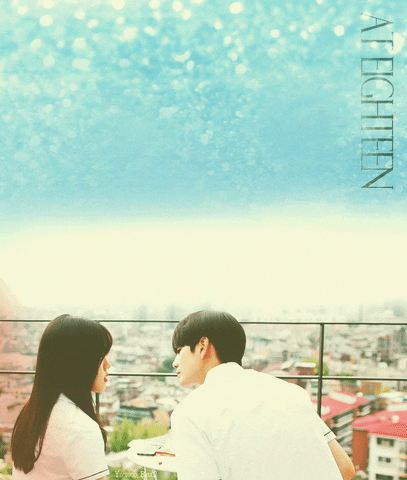 4- "Love Alarm"
Kim SoHyun and Song Kang as JoJo and SunOh
Kim SoHyun and Song Kang's love story made viewers heart to flutter with their passionate love. Many are shipping this unique couple.
In the selected scene, Kim SoHyun and Song Kang were on a date at the ice rink. Song Kang couldn't skate and struggled on the ice. He accidentally bumped on her and ended up hugging her in a cute yet sloppy scene.
She then helped him skate around. They looked like the perfect in-love couple. With his puppy face and incredibly handsome look, he made us swoon for him.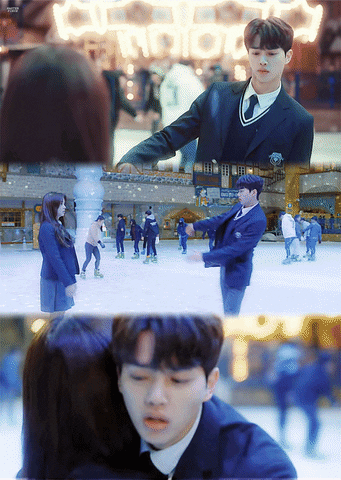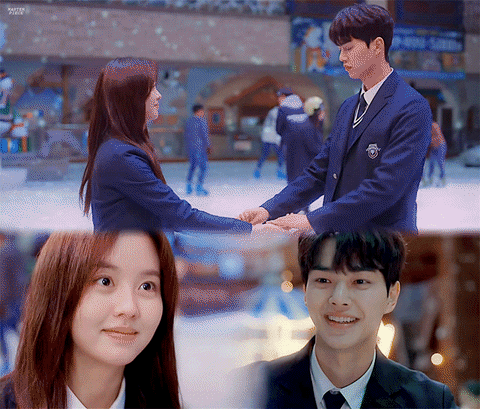 If you missed last's week choice, check it here.
Stay tuned for next week's choice! It is every Friday on Kpopmap.
Read More : Top 6 Most Heart-Fluttering Lines Of SunOh (Song Kang) In "Love Alarm"