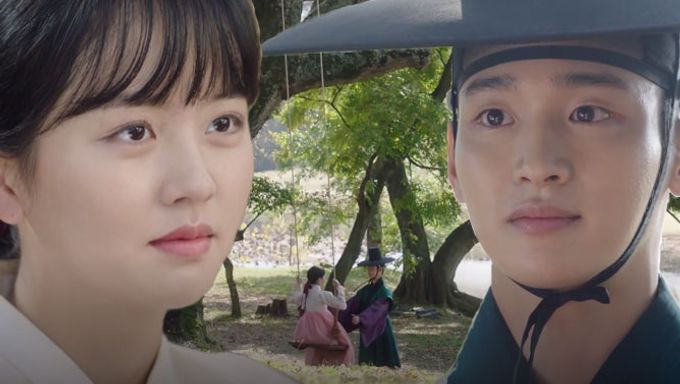 Have you been watching dramas these days? If not, you are missing many great scenes! If you like romance, this weekly Kpopmap series might be for you. Be aware of spoilers.
We made a selection of scenes from K-Dramas from this week that will make your heart flutter by their cuteness and romantic vibes and will make you want to fall in love. These scenes are the sweetest of this week. No more words, here is the list!
Let us know in the comment which scene you prefer and/or what is the sweetest scene of this week episodes according to you.
If you missed last's week choice, check it here.
1- "Tale of NokDu"
Kim SoHyun and Jang DongYoon as Dong DongJoo and Jun NokDu
Even if they are facing issues, the main couple of "Tale of Nokdu" had plenty of sweet and lovely scenes this week.
In the selected scene, the couple had -one more time- a romantic scene at the swing. Kim SoHyun was the one sitting on the swing and Jang DongYoon was pushing her from the front. They were romantically looking at each other and smiling while she kept swinging.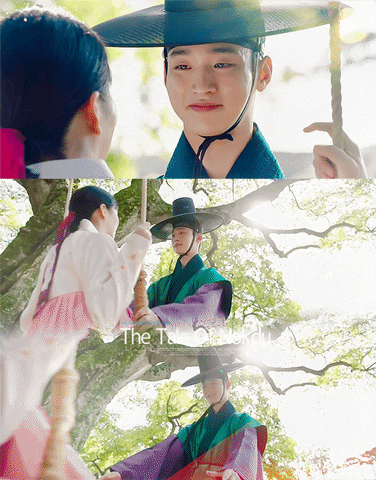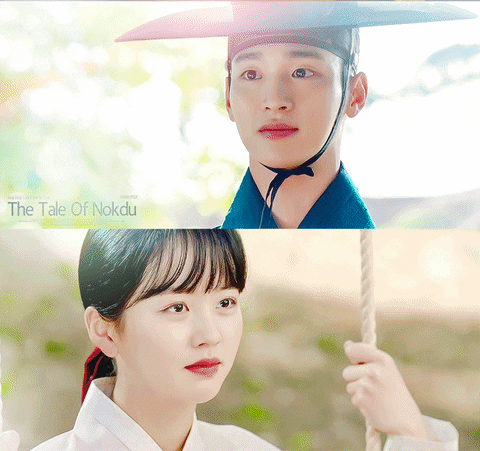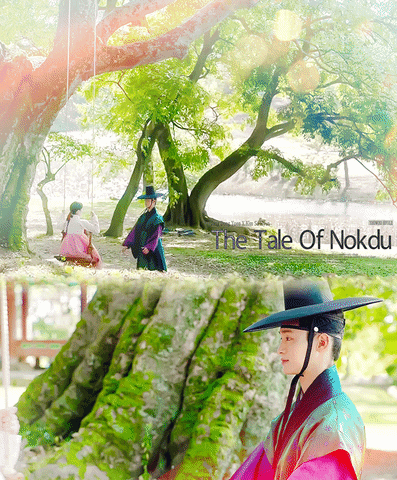 2- "Extraordinary You"
Kim HyeYoon and SF9's RoWoon as Eun DanOh and HaRu
"Extraordinary You" gave smiles and tears to the viewers this week. RoWoon-Kim HyeYoon's couple loves each other wholeheartedly, however, their romance is impacted by the major question: will she be able to live?
In the selected scene, RoWoon and Kim HyeYoon enjoyed a date outside of school. They were having fun and shared special happy moments.
RoWoon was riding the bicycle while Kim HyeYoon was sitting on the back. Struggling because she kept moving, he asked her to hold him with her arms. This was how she back hugged him while they were joyfully bicycling together in the middle of the flower fields.
It was one of the cutest scenes ever with their innocent puppy faces. Take also notice that RoWoon's Jacket was on her lap, perfect manner.
3- "Vagabond"
Lee SeungGi and Suzy as Cha DalGun and Go HaeRi
In "Vagabond", Lee SeungGi and Suzy are sweet and care about each other but are yet to be dating.
In the selected scene, Lee SeungGi worried about Suzy as it had not been long since she was discharged from the hospital. He asked her to hop on his back and walked for a while. He joked that she was heavy but in reality, his true concern was her health and he did not want her to overworked herself.
Lee SeungGi sweetly promised: "I'll carry whenever you want".
4- "Melting Me Softly"
Ji ChangWook and Won JinAh as Ma DongChan and Go MiRan
Ji ChangWook and Won JinAh continue in their love relationship but are troubled by misunderstandings.
In the selected scene, Won JinAh was jealous of Ji ChangWook's relation with his ex. She explained to him that it seemed like she was the one liking more in the relationship. They had a long discussion and solved their issue.
In conclusion of their fight, Ji ChangWook said: "I don't know what part of you I like, but I love you to death". And they changed each other contact names on their phones to "inferior" for Ji ChangWook and "superior" for Won JinAh.
If you missed last's week choice, check it here.
Stay tuned for next week's choice! It is every Friday on Kpopmap.
Read More : Top 10 Most Handsome Korean Actors According To Kpopmap Readers (November 2019)